As a verified Craft CMS partner, we are committed to delivering high-quality, reliable websites that are easy to manage and maintain. With Craft CMS. services, you can trust that your website will be built to the highest performance and security standards.
Intuitive content creation with limitless flexibility.
Intuitive content creation with limitless flexibility.
Craft CMS is a content management system that offers an intuitive user interface and a completely customizable back end, providing a seamless experience for website administrators and editors. With a focus on user-friendliness, the platform is designed to make everything just make sense, allowing users to easily create and manage content without any technical knowledge or training. Craft CMS is also highly flexible and scalable, making it an ideal solution for businesses of all sizes and needs. Whether you want to build a simple blog or a complex enterprise-level website, Craft CMS provides the tools and functionality to achieve your goals.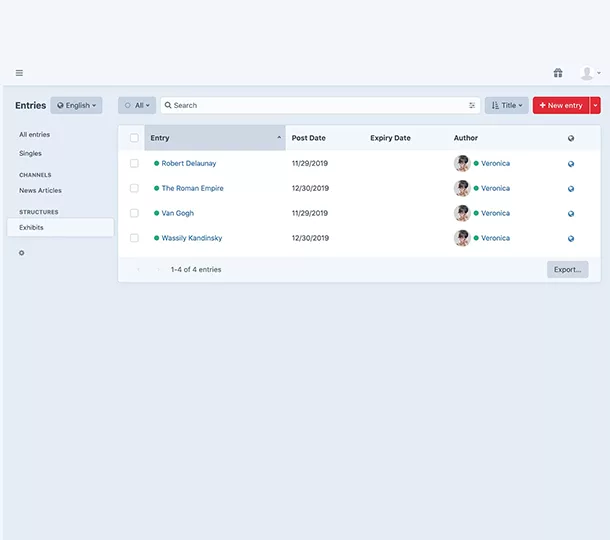 Prioritizes content above everything else.
Prioritizes content above everything else.
Craft CMS is all about putting content first. Unlike some other content management systems, Craft is designed to give you maximum control over your content and how it's presented on your website. This means you don't have to worry about making your content fit into a rigid CMS structure or dealing with clunky editing tools that slow you down. Instead, you can focus on creating high-quality content that resonates with your audience and drives engagement. With Craft CMS services, your content is always front and center so that you can make the best possible user experience for your visitors.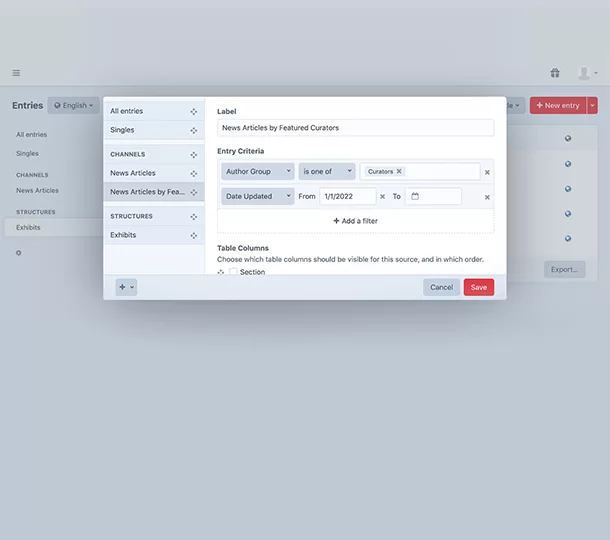 Design + Development
Design + Development
Craft CMS is flexible enough to let you use your own front-end interface. Whether you have your own templates or prefer to keep your front end decoupled from the CMS, you have the freedom to make your website look and function the way you want. Craft CMS is designed to be versatile and adapt to your needs, giving you the control to create a unique user experience.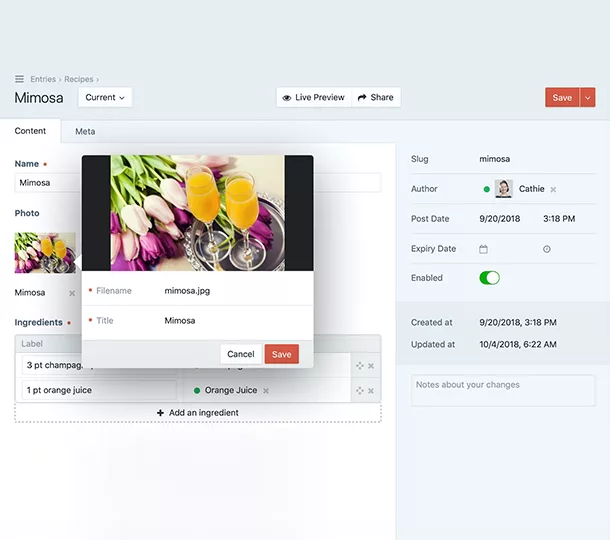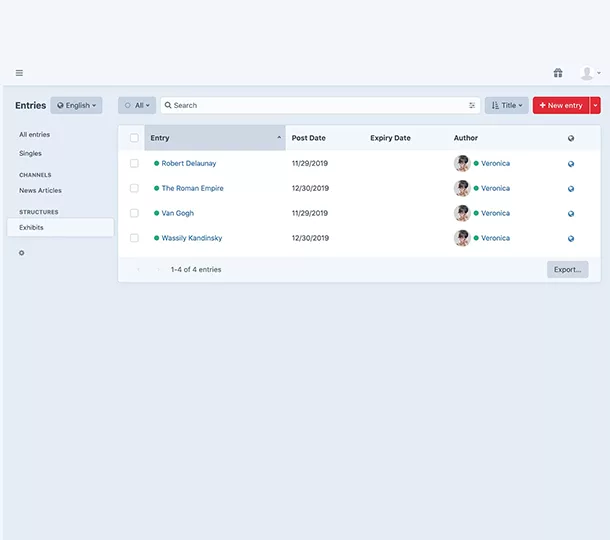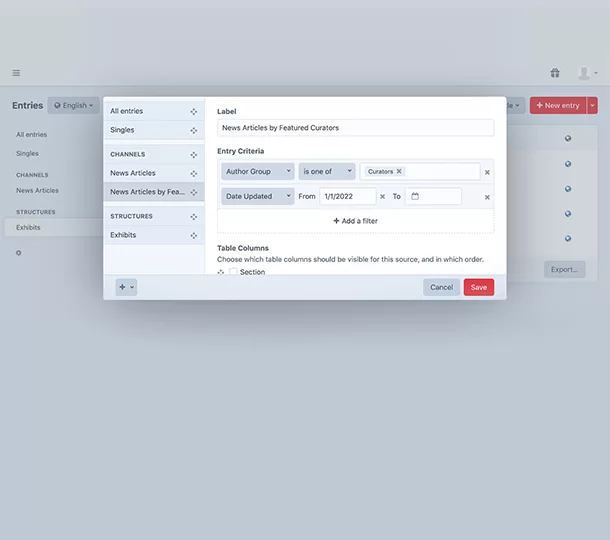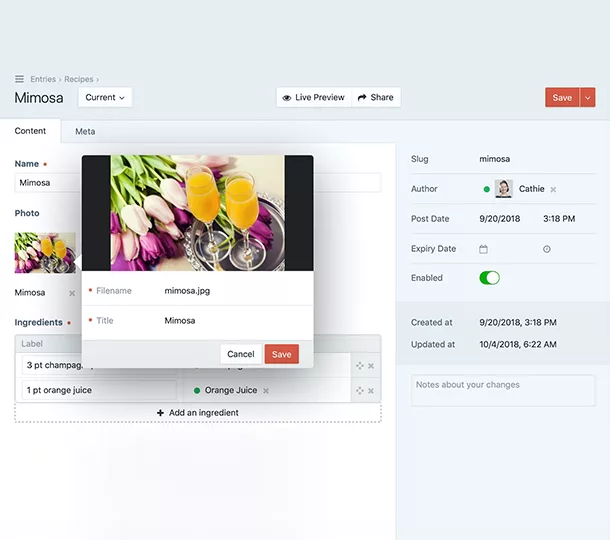 Features that bring flexibility and control

Design around content
Craft gives the ability to create an experience specific to your project without making any assumptions about your content.

Manage your site
Update your content easily and effectively with Craft CMS services and built-in management features.

World-class localization
Translate and localize your content for an unlimited number of sites, languages, and locales.

Integration ready
Connect Craft to marketing tools like Salesforce, Mailchimp, Hubspot, and countless more.

Authors ascend
Give your authors an intuitive authoring experience, so they can focus on what they do best.

Scales with your business
Craft powers design portfolios, multinational marketing sites, and everything in between.

Extend away
Build anything you can imagine with Craft CMS plugin development and powerful plugin framework.

Secure and supported
Support plans and SLAs are available when needed.
Demo Craft Site
Discover why Craft CMS offers easy content management, reduced bloat, enhanced security, and a content-centric approach. As a Craft CMS development agency and verified partner, Convergine brings proven expertise to your projects, ensuring they're in reliable hands. Explore the benefits of Craft CMS for your website today.
Craft CMS Expertise: Verified for Commerce & Enterprise delivering secure, high-quality websites.
Intuitive Content Control: User-friendly content management with flexibility.
Content First Approach: Empowering content presentation and engagement.
Design Freedom: Versatile, customizable design and development.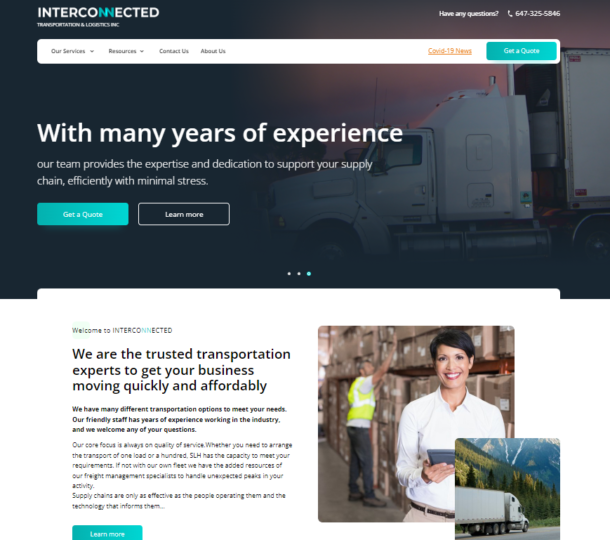 Website design process entails
These days, it's too easy to throw together a website using a do-it-yourself site builder platform. But as cost-effective and convenient as that approach may seem, it won't get you the results your business needs. Suffice to say, our workflow is robust, starting with a needs assessment and ending with… Well, we'll get into that later as the work on a website is never really finished. But along the way, you can expect us, your Craft CMS website developer, to build your website bit by bit as we carefully work through our proven process:
Case studies
As a Craft CMS website developer,  we're proud of the work we've done for our clients. Our portfolio of websites made with Craft CMS showcases exceptional results that we can achieve when we combine great design, a modern content management system, and a passion for excellence.
Let's make something
awesome together!
Our team is always excited to hear about your project and explore the possibilities of working together. Whether you have a specific idea in mind or are starting from scratch, we're here to help.
Not Just Clients. Partners and Friends