Website and application development for Clinago
Founded by Innovaderm, one of the largest independent dermatology Contract Research Organisation (CRO), Clinago is a startup that offers clinical trial management services for the pharmaceutical, biotech, and medical device industries. Its patient-facing platform facilitates access to various clinical studies that help medical organizations accelerate the development of new medications.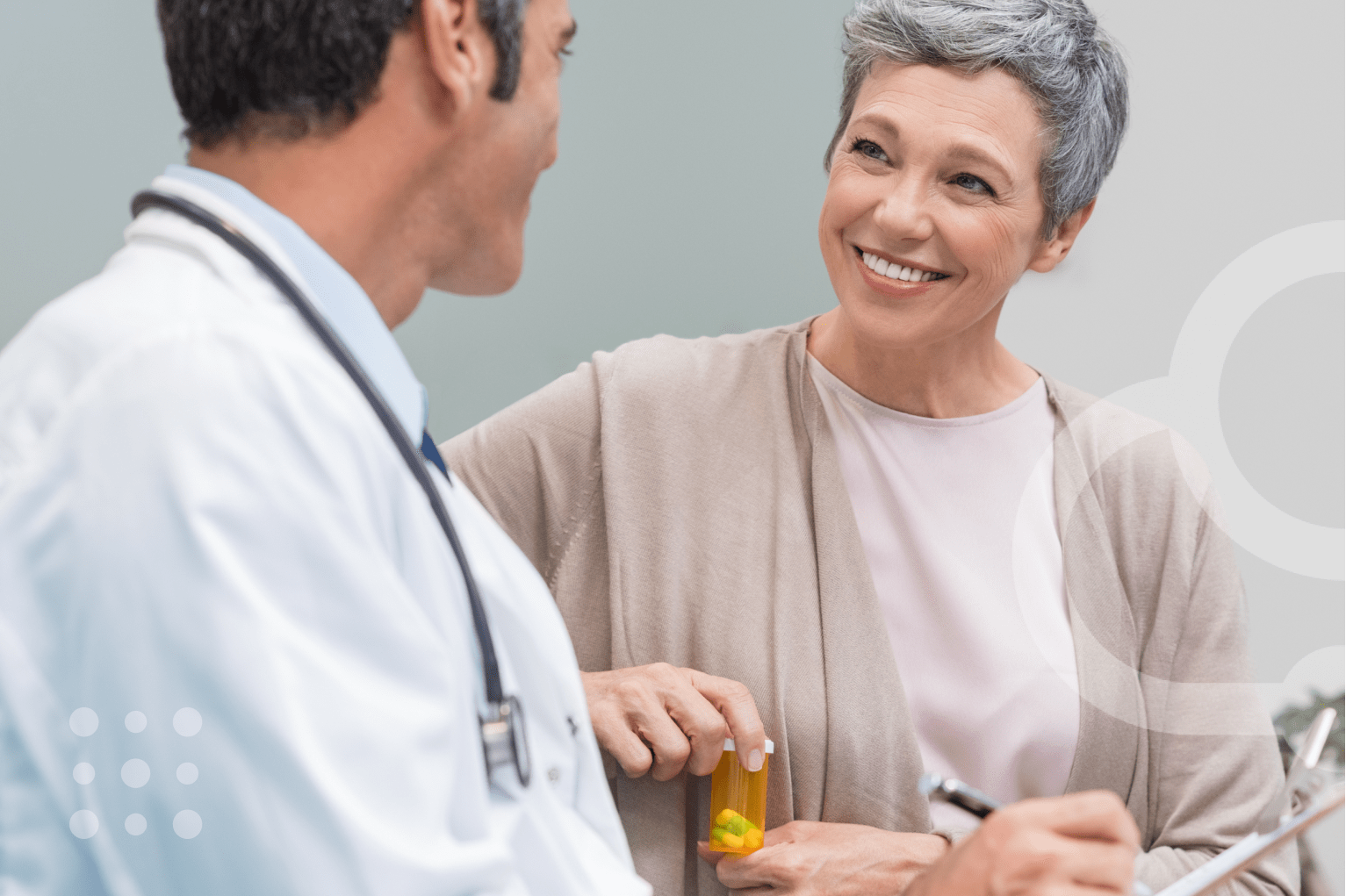 The Challenge
The company reached out to us to design a website that would connect potential clinical study participants and Clinago's network of clinical partners and allow them to partner on the clinical research studies. The project also required to have a web application enabling its users effectively access and manage study data to streamline the recruitment process and data management around clinical research.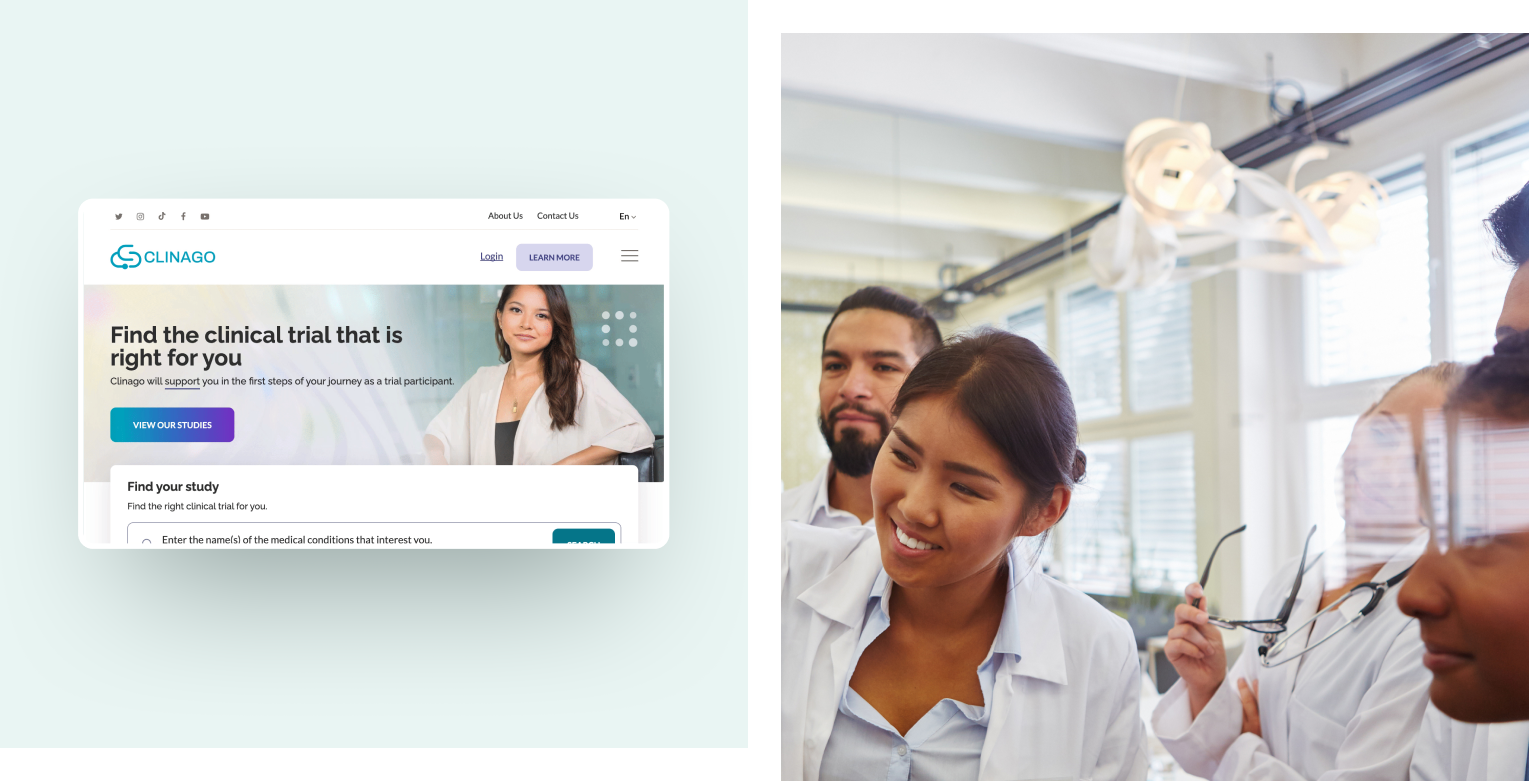 Website Design
The CRO website goal was to engage volunteers to participate in the studies and provide clear information on enrollment opportunities and expected experience. In addition, the website had to enable clinical partners to easily access the patient database, contact participants and keep track of their status in clinical trials. The ultimate goal was to create a modern, accessible and engaging web presence that builds trust among its partners and enables two-way communication.
UX/UI
Developing a seamless user interface and experience for both audiences was a top priority. Through multiple discovery meetings, we analyzed the audience and clarified user journeys to ensure intuitive navigation and a seamless customer experience.
Pleasant and relatable design
We adopted best practices and design techniques to make the healthcare website customer-centric functional and easy-to-use. It included a clear layout, subtle branding, a consistent colour scheme used throughout the website, well-structured content and relatable imagery.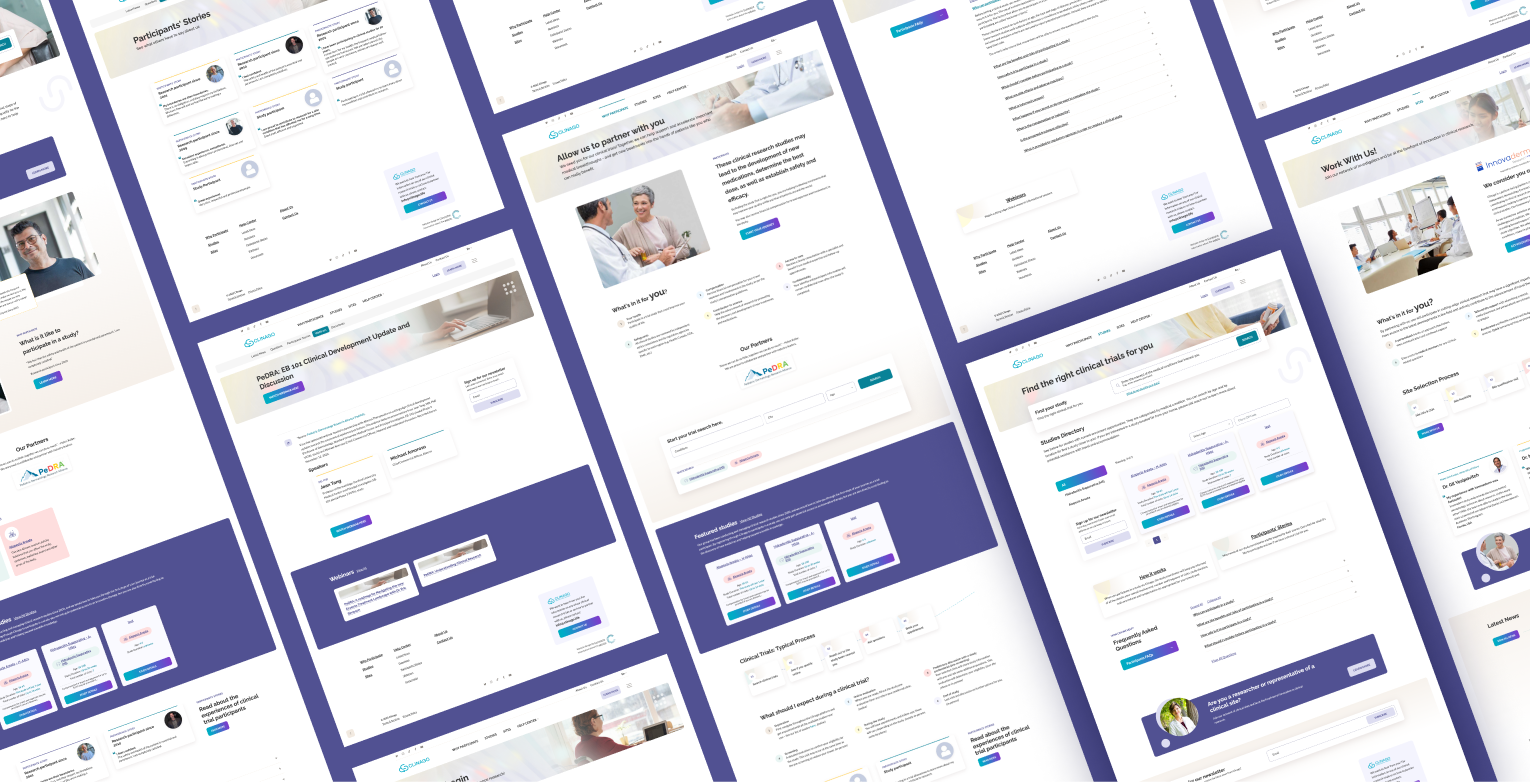 Strong Search Functionality
Strong search functionality was a must-have feature. Clinago's website enables robust search for both audiences. Potential clinical trial participants can search clinical studies based on their condition, age, location, and other relevant characteristics. Clinical partners leverage search functionality built-in in the web app to access participant data, manage profiles and all related information needed for further recruitment.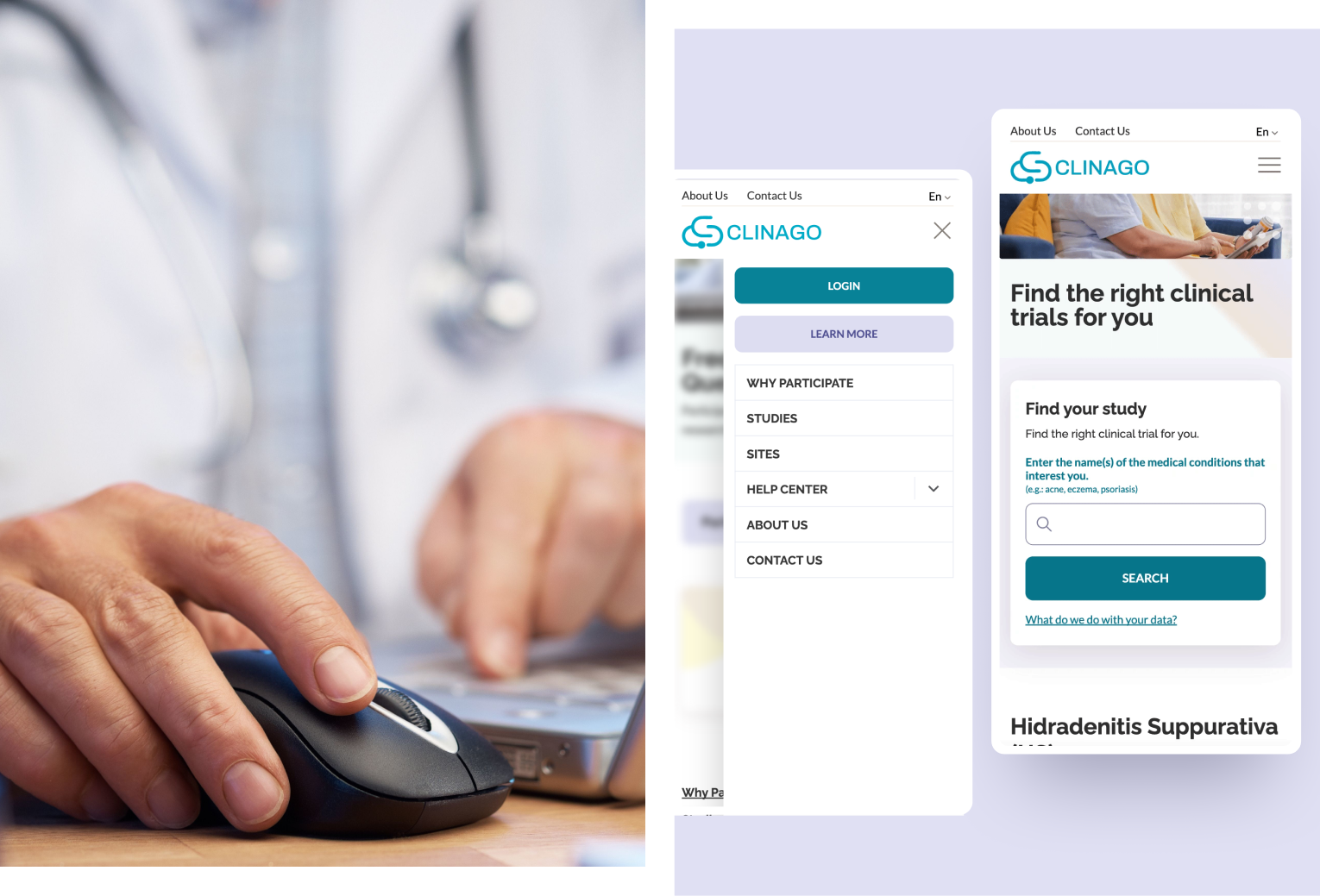 Customer-Centric Content
Clinago's website content focuses on providing customer-centric, up-to-date and reliable information for its users showcasing the process, advantages of participating, studies directory, testimonials, industry news and relevant resources.
Seamless Application Process
Once participants find a relevant study that fits their criteria, they are moved along to a pre-screening questionnaire provided by Clinago's clinical partners' sites within the website. If the participant is eligible to participate in the clinical trial, they are contacted directly by the investigator conducting the study.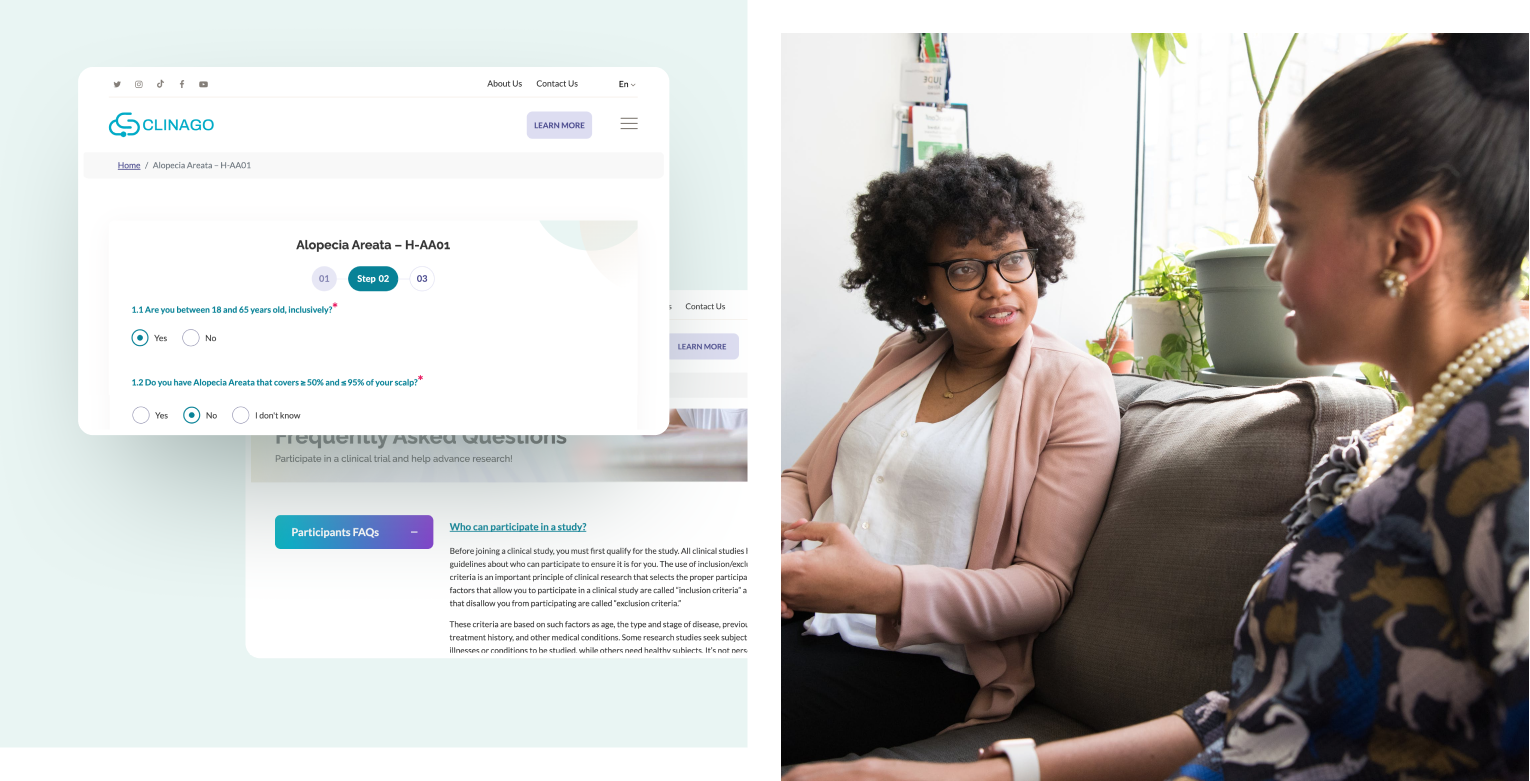 Web Application
The web application enables Clinago admin team to manage study profiles, make them available under a specific clinical research partner, and control availability to patients. The app functionality allows the client to assist the research partner in effectively managing their own profiles; supports all patient data collection, and tracks the participant's activity and insights such as:
The number of patients that answered pre-screening questions
How many were qualified or didn't meet the requirements
Patients awaiting contact
Patients are currently waiting for the next stage of a clinical trial
Site profiles that help Clinago determine the potential for future collaboration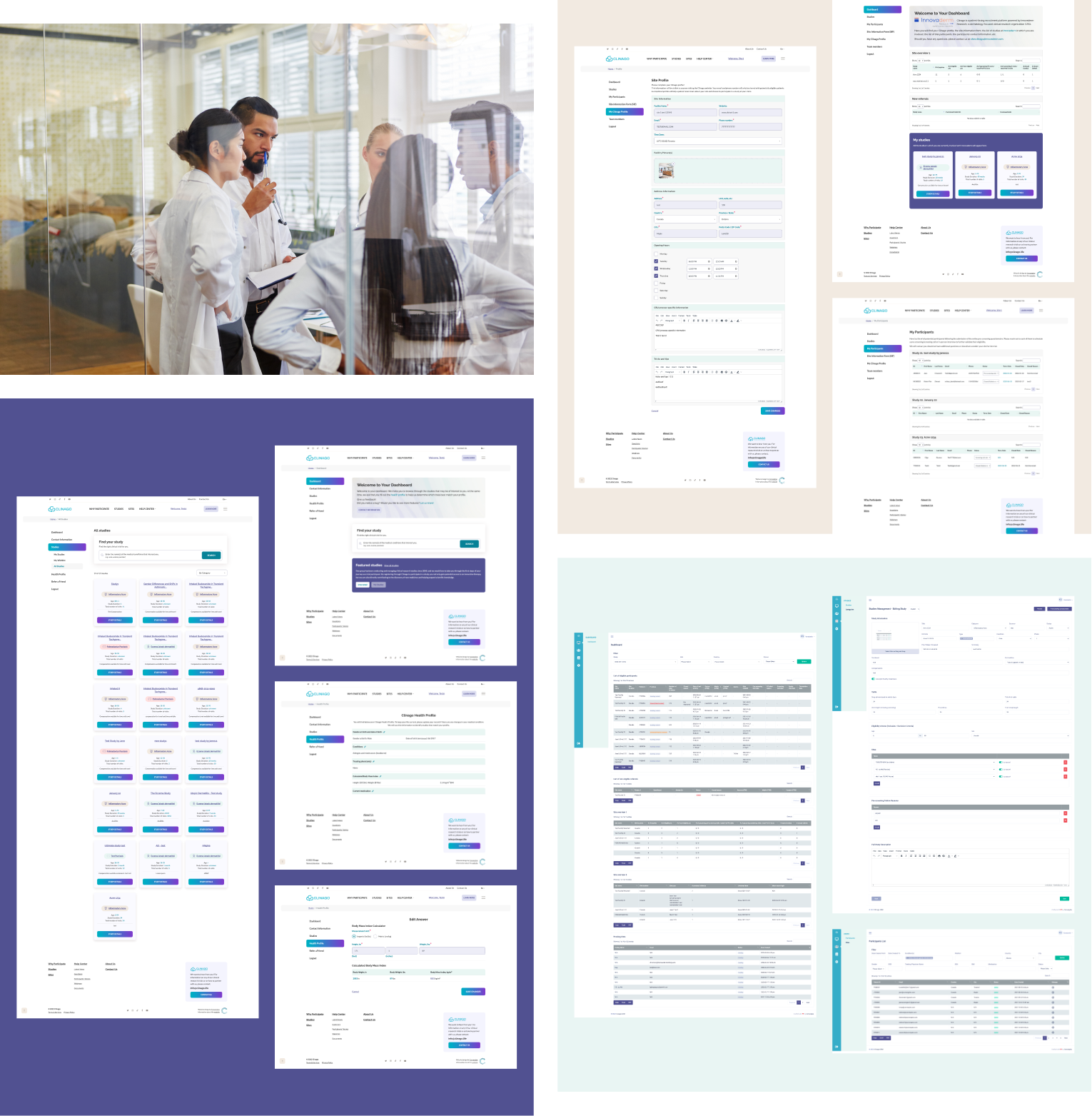 The Result
A modern, high-performing, engaging and customer-centric website that brings together potential clinical study participants and clinical partners to collaborate on clinical research studies that lead to new innovative medications. Equipped with a robust web app, it enables Clinago team to manage and track study-related data contributing to effective patient recruitment, analysis and successful clinical research outcome.