New website design for LifeLabs
LifeLabs is a Canadian-owned company that has been offering health-related services to millions of Canadians from coast to coast for more than 50 years.  Starting as a small lab on the west coast, LifeLabs became Canada's largest lab provider performing over 112 million laboratory tests to help healthcare providers better diagnose, understand and treat medical conditions. Supporting patients, healthcare providers and corporate partners,  LifeLabs strives to provide the best customer experience across different channels and touchpoints.

Intro
The effective medical information delivery, requires a healthy, functional and engaging website. LifeLabs recognized that their online presence and used technology did not meet the industry standards and customer needs. They reached out to us looking to develop the website that would offer its customers an excellent and reliable online user experience and enhance their brand as a trusted healthcare partner.
Problem
Outdated website design, poor UX/UI, and lack of advanced functionality did not allow LifeLabs to effectively deliver health-related information, feature core services, and respond to customer needs.
Solution
A high-performing WordPress website with a fresh, professional and user-centric design, improved UX and custom functionality to provide patients, healthcare providers and other visitors with the best digital experience.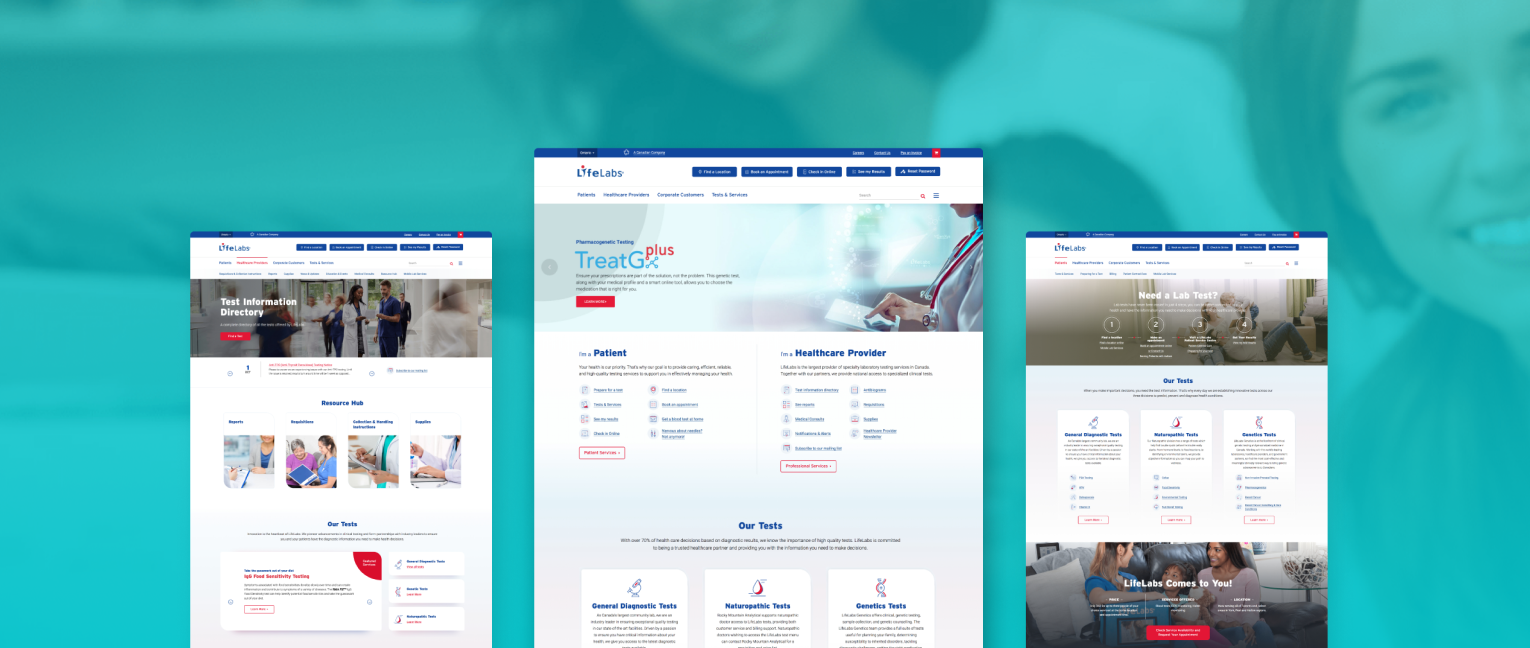 Comprehensive navigation to support targeted health related content
In the healthcare space, effective delivery of engaging, informative and easy-to-understand content is one of the key elements for building trusted relationship with the audience.  We were challenged to design a clean,  straightforward and intuitive information architecture taking into consideration needs of patients, healthcare providers and corporate partners. Working closely with LifeLabs, we conducted a UX research to map out different user journeys, their pain points and needs.
As a result, we landed on UX Strategy that allowed us to create low and then hi-fidelity wireframes to visualize user-flows that go hand-in-hand with business goals related to marketing and development. A customer-centric content strategy and intuitive navigation provide visitors with a seamless user experience  letting them  effortlessly  find  the  necessary  information.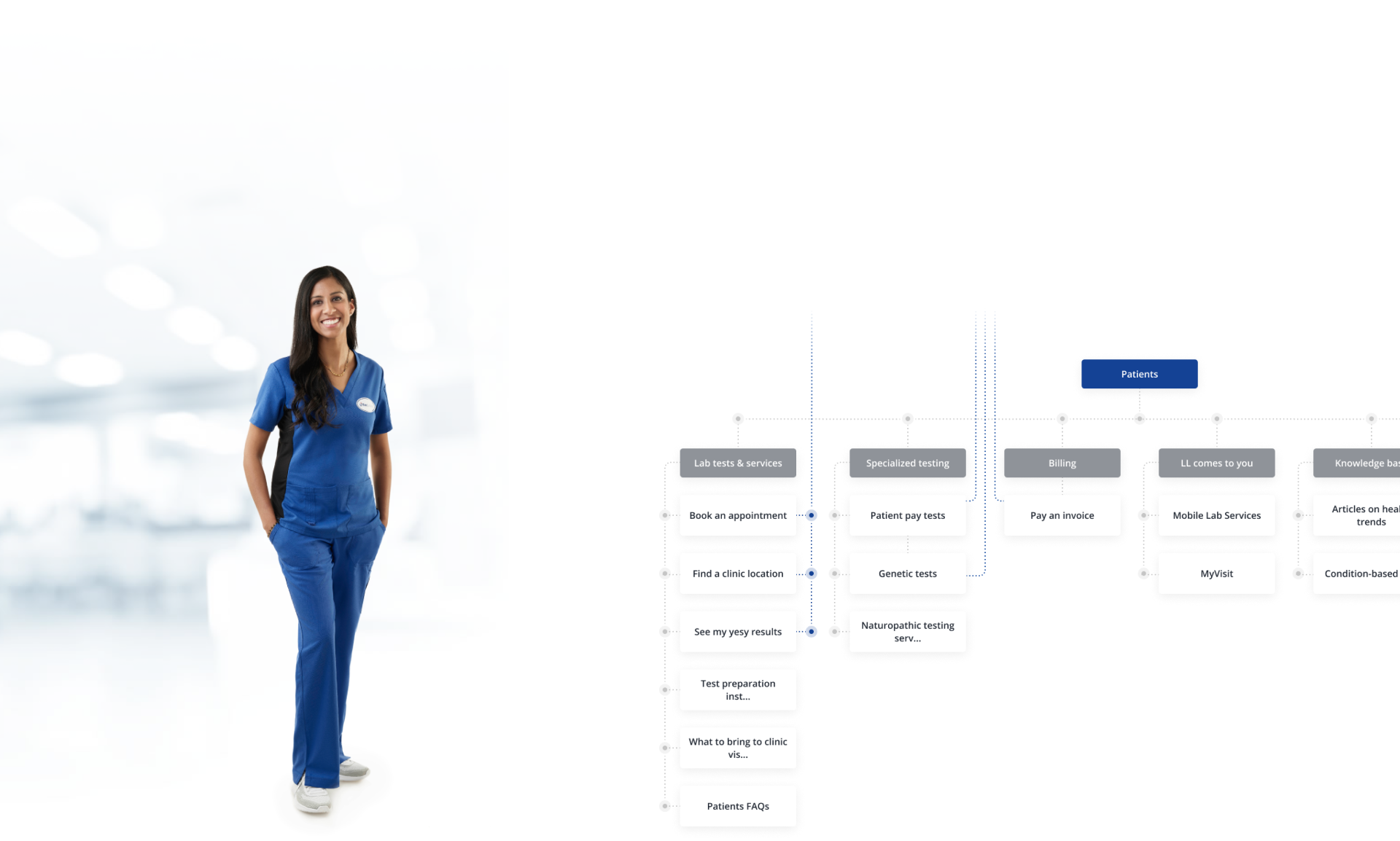 Extended functionality to easily find content
A powerful search function enhances the usability and makes it easy to find test-related information, resources regarding healthcare providers, scientific publications,  industry news,  and events. To enhance personalisation, we integrated geolocation feature to differentiate province specific content. We paid special attention to effectively visualize the test profile page ensuring it is user-centric, informative, but not overloaded with content.
Our concept was simple – organize a complex medical content page that clearly informs, suggests and intuitively leads to other necessary resources or actions. The new website also seamlessly aggregates other companies' applications such as test lab location finder, appointment booking, online check-in and patients' portal login to see test results.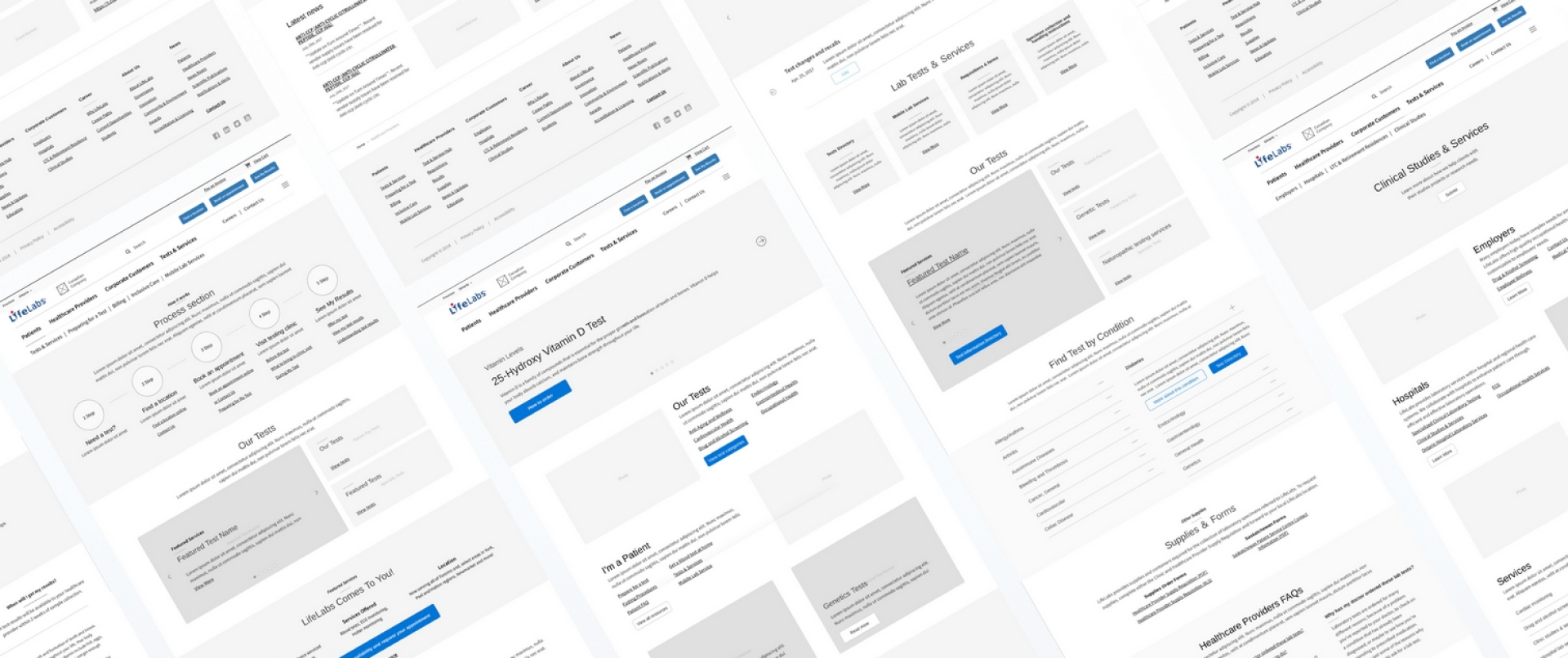 Web Design
The up-to-date and user-centric design supported by relatable imagery, custom iconography, subtle and engaging  graphical elements reflect the nature of the business and convey LifeLabs  expertise and connection to patients. Usage of the color palette is aligned with LifeLabs brand identity and our approach was to create a unified visual design with a clean and pleasant look and feel across the website.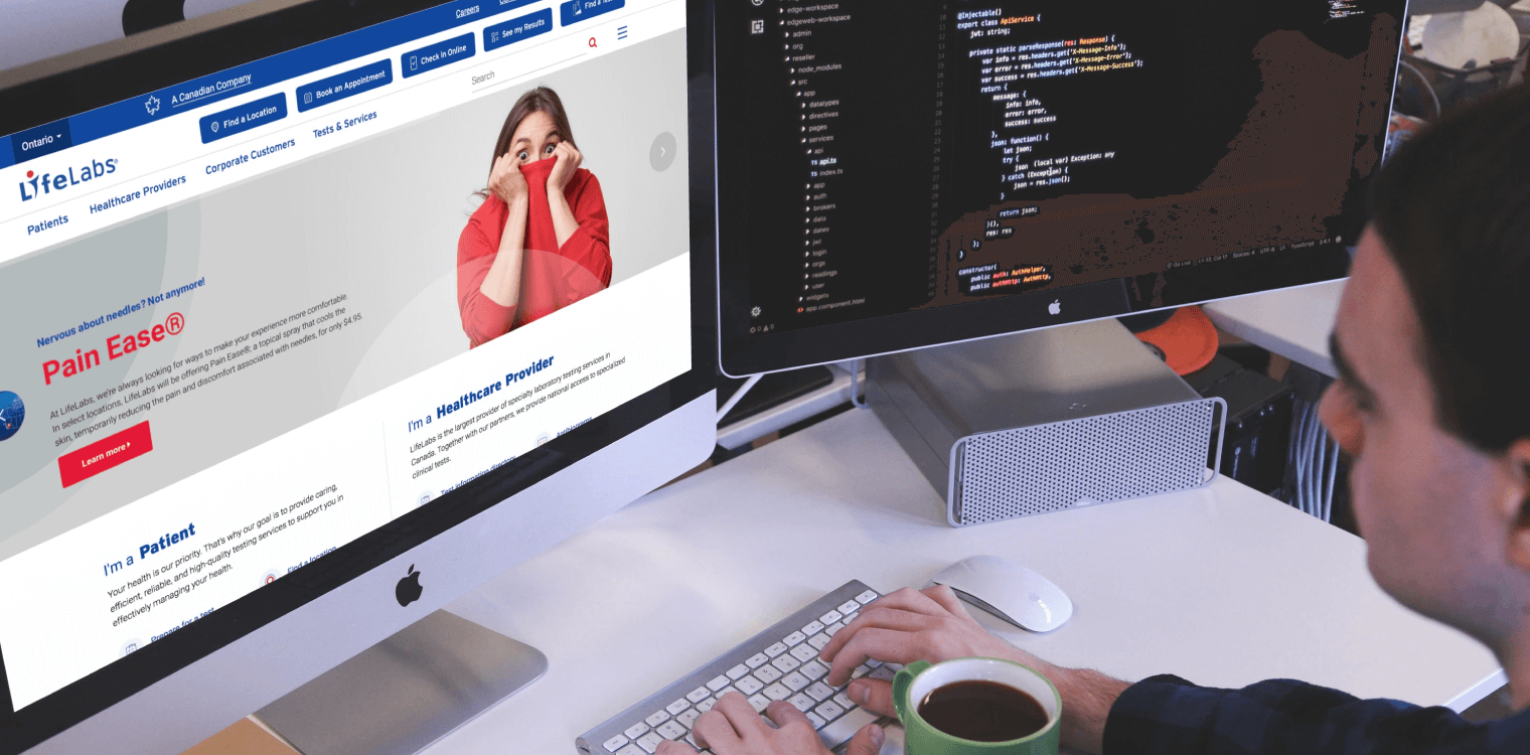 UI Components

Powerful tool to help grow marketing and digital engagement
One of the tasks was to power the website with tools and features to boost marketing and social media engagement. SEO optimization, integration with Pardot (leading B2B marketing automation CRM by SalesForce), social media platforms and other tools significantly extend the website capabilities and allow LifeLabs to effectively implement marketing strategies through targeted content distribution including blogs posts, webinars and events.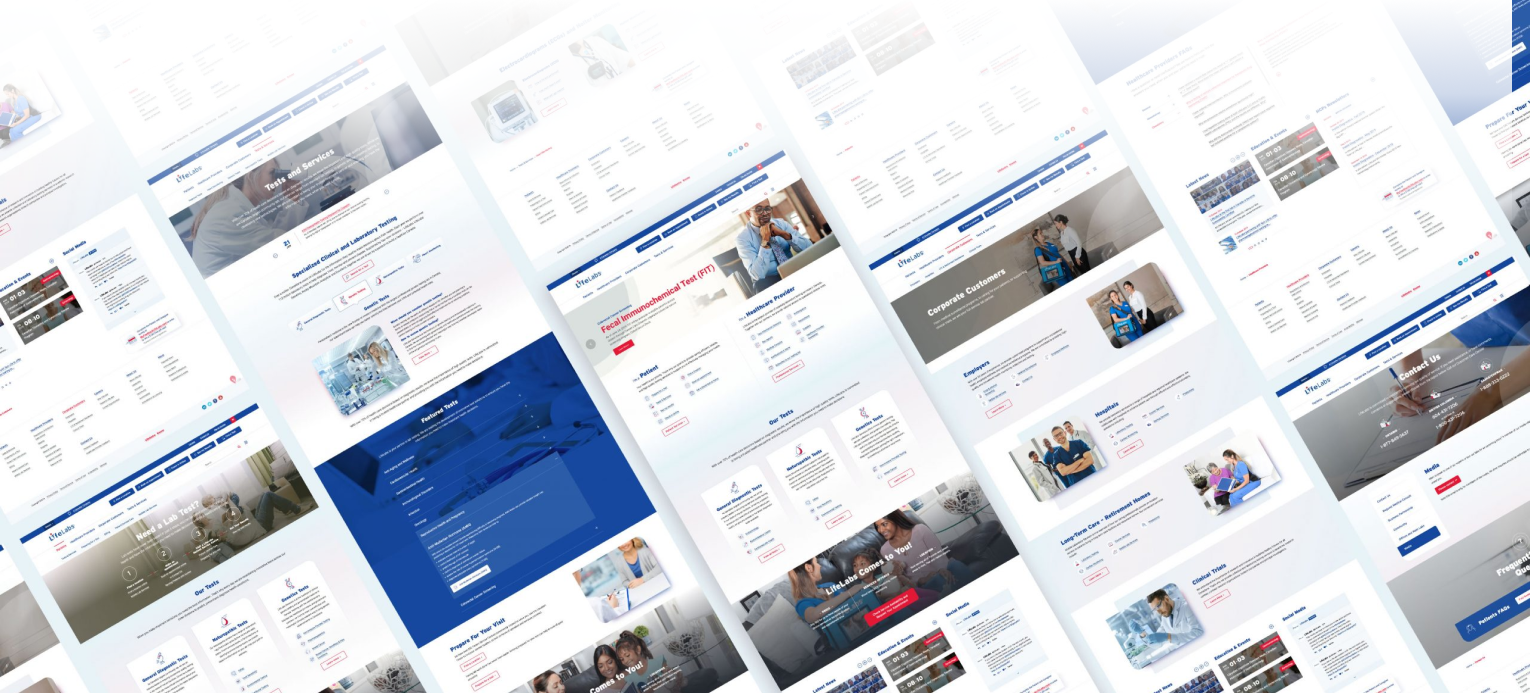 E-Commerce Integration
To maximize one-stop-shop experience, we integrated a modern, custom-developed e-commerce solution to allow LifeLabs patients to conveniently pay for their tests.
Digital Accessibility
Designed and built to reflect AODA web accessibility standards, LifeLabs website is accessible to all people on all devices. The finished website is highly responsive, adaptive to changing user demands and provides a smooth experience anytime from anywhere.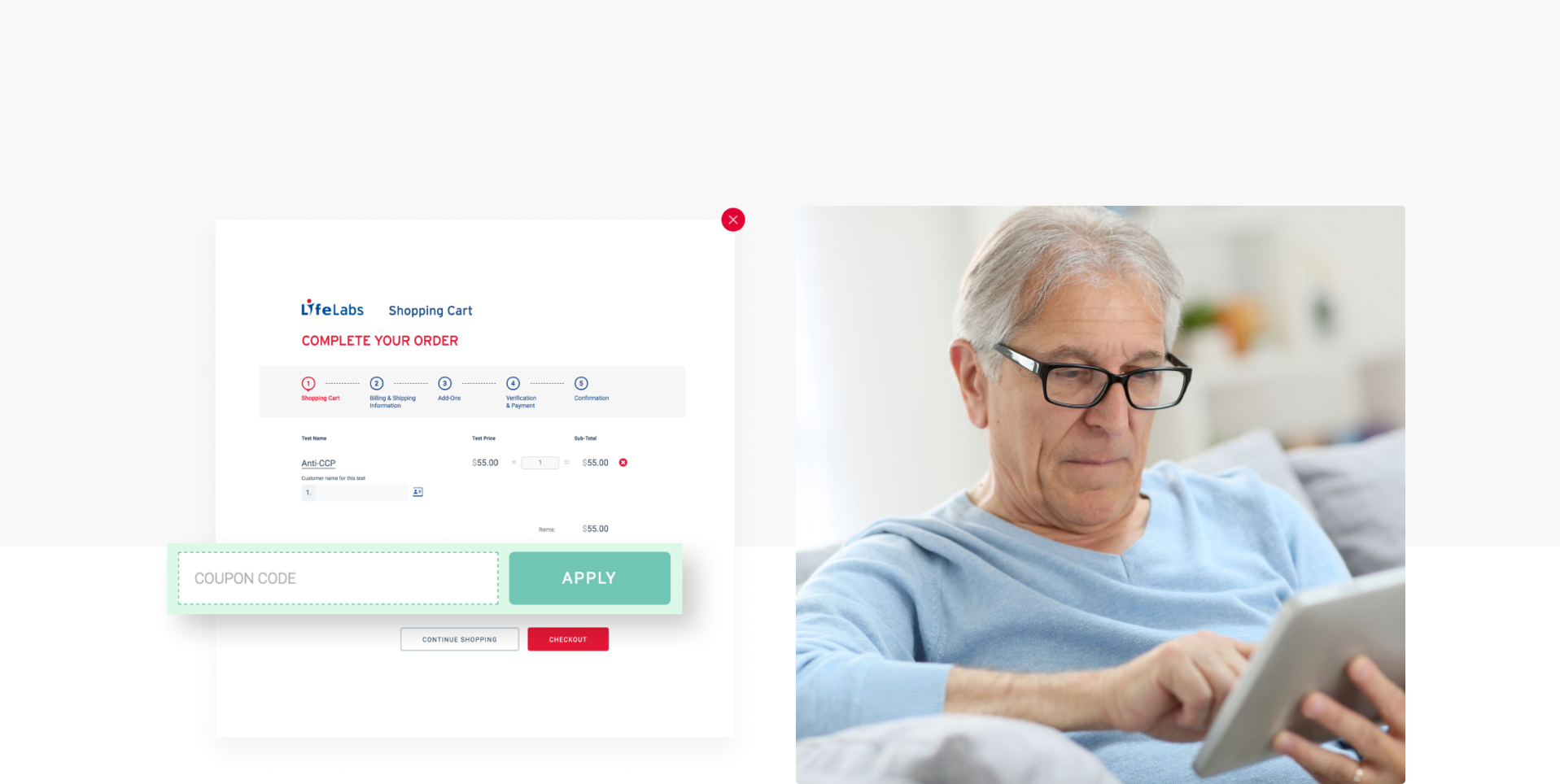 Mobile and cross-browser compatibility
The website is compatible across all browsers and maintains the same great experience when using a mobile phone. To ensure the most convenient experience for mobile users, we built a mobile version from scratch.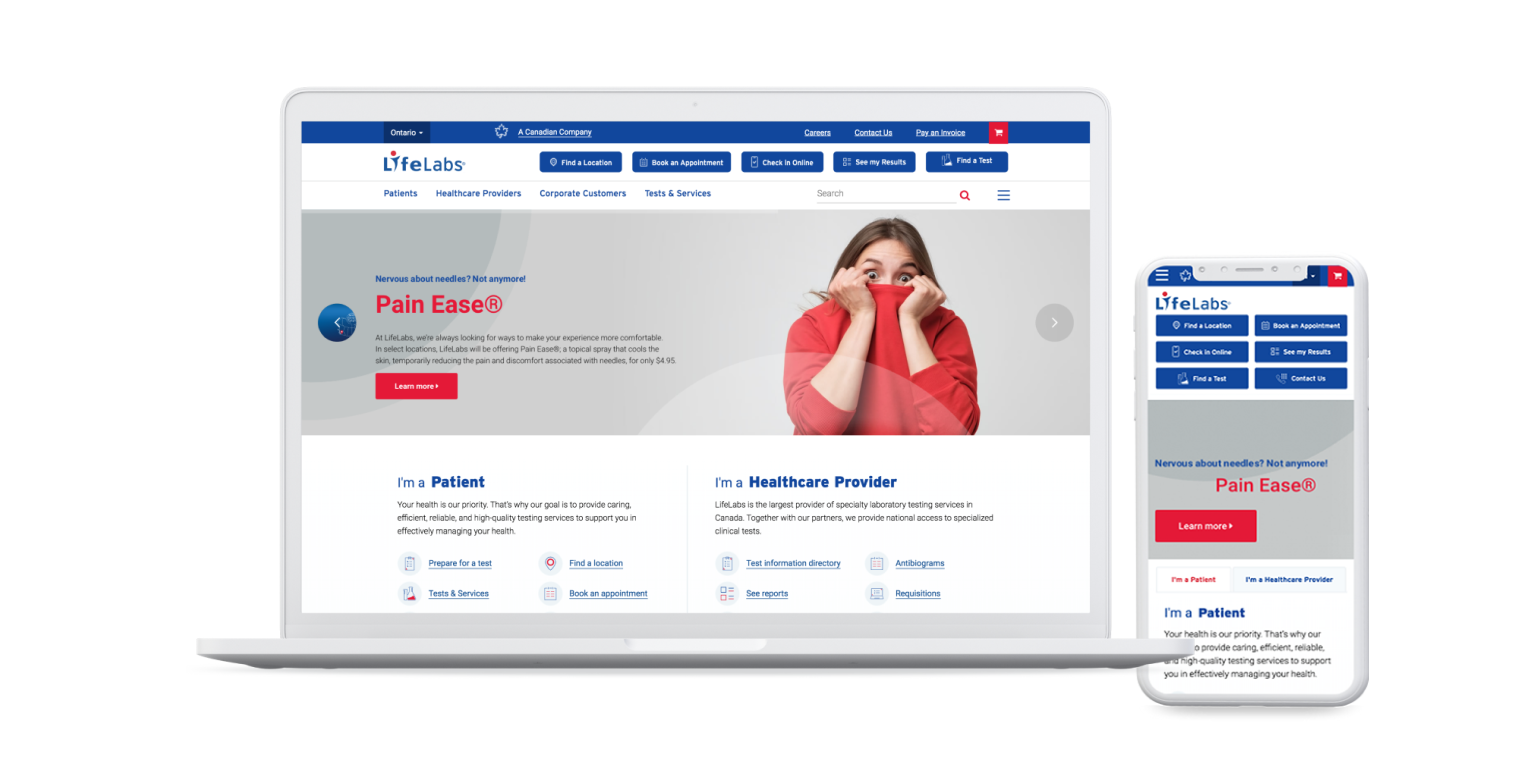 THE RESULT
The result is a high-performing, fresh and content rich website designed on existing brand assets and focused on LifeLabs values and organizational goals.