Key business-related concerns our software addresses

Increase revenue

by enhancing a sales cycle

Leverage the latest technologies and best practices to have a custom HVAC CRM that helps your business make a profit.

Optimize processes

unique to the HVAC industry

Save time and increase productivity by automating key HVAC operations and administrative tasks across multiple departments.

Measure

what matters to your HVAC business

Make the most of the sophisticated reporting capabilities to monitor your business performance in real-time and make timely decisions.
Key CRM features to fit HVAC operations
Lead Management
Turn leads into closed deals faster by effectively managing estimates and quotes for installations and work orders. Help your field service technicians to drive sales easier and smarter. No need to "sales pitch" anymore.
Installations and Maintenance Job Management
Let technology assist your technicians in managing installations and maintenance tasks including assigning jobs, service history tracking, notifications of projects' due dates or delays.  
Inventory Management
Create a powerful warehouse by organizing and automating operational processes related to sales activities, resources allocation, forecasting, tracking and accounting.  Staying on top of your inventory will maximize your customer service productivity and expedite revenue growth. 
Scheduling and dispatching
Connect the office with the field by building in real-time communications and tracking features to streamline scheduling and dispatching. Say goodbye to unexpended changes, delays and unhappy customers. 
Accounting 
Take accounting under control by automating workflows and related document management including invoices, billing sheets, status of payments, customized reports and customer profiles. 
Powerful Reporting
Make the most of the reporting capabilities to have a full view of any aspect of your business performance with a simple click. Dynamic dashboards tailored to your specific KPIs will turn numbers into actionable insights.  
User roles management
Assign well-defined user roles and privilege level for each user groups (administrators, technicians, installers) to manage access to relevant features and secure access to confidential information. 
Powerful integrations
Let your CRM talk to other third-party applications and have access to all systems and data from one centralized place. By integrating platforms such as Quick Book, Zoho Inventory and Marketing tools you  bring your multiple business areas together that gives you a full control over the business.  
Reqest a free demo to start with the right HVAC CRM solution
Frequently asked questions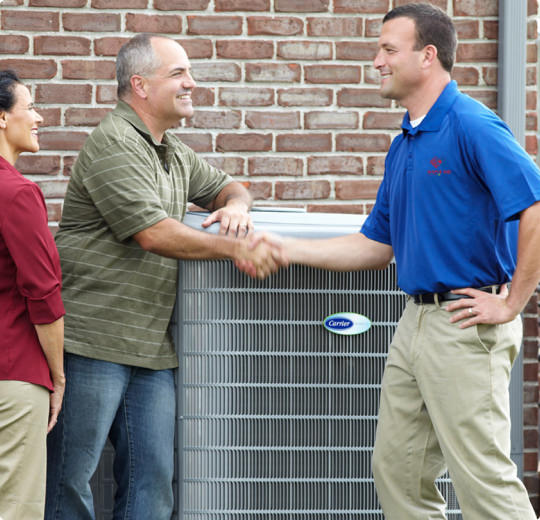 All-in-one software solution to manage all aspects of your HVAC business
Explore why our clients trust Convergine to develop unique digital solutions for their unique businesses.
Kickstart your business with HVAC CRM Software