Website Design for Parkdale Village BIA
A Business Improvement Area (BIA) is a collaborative organization comprising commercial property owners and tenants within a specific geographical area. These stakeholders partner with the City to cultivate vibrant, competitive, and secure business districts that attract shoppers, diners, tourists, and new enterprises. Through their collective efforts as a BIA, local businesses possess the organizational and financial capacity to drive positive change, enriching the quality of life in their immediate community and the entire city.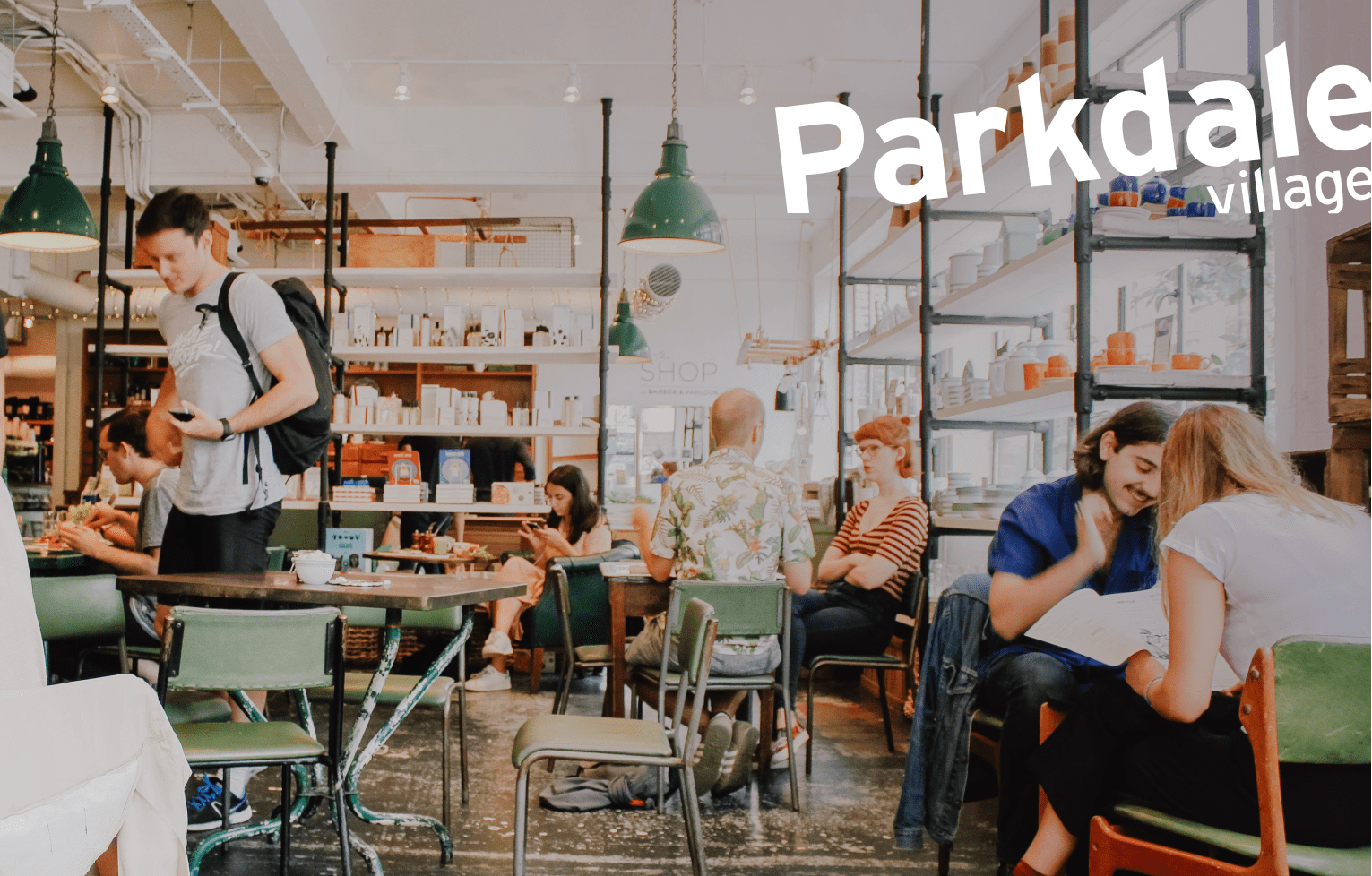 Enhancing Parkdale Village BIA's Online Presence: A Portfolio Case
Parkdale Village BIA, a non-profit organization in Toronto, approached us with the challenge of revamping their outdated website. As an association dedicated to supporting small "main street" businesses, they recognized the need for a modern and user-friendly online platform to effectively showcase the vibrant community they represent. Our goal was to create a visually appealing and intuitive website that would promote Parkdale's local businesses, events, and attractions while providing an enhanced user experience.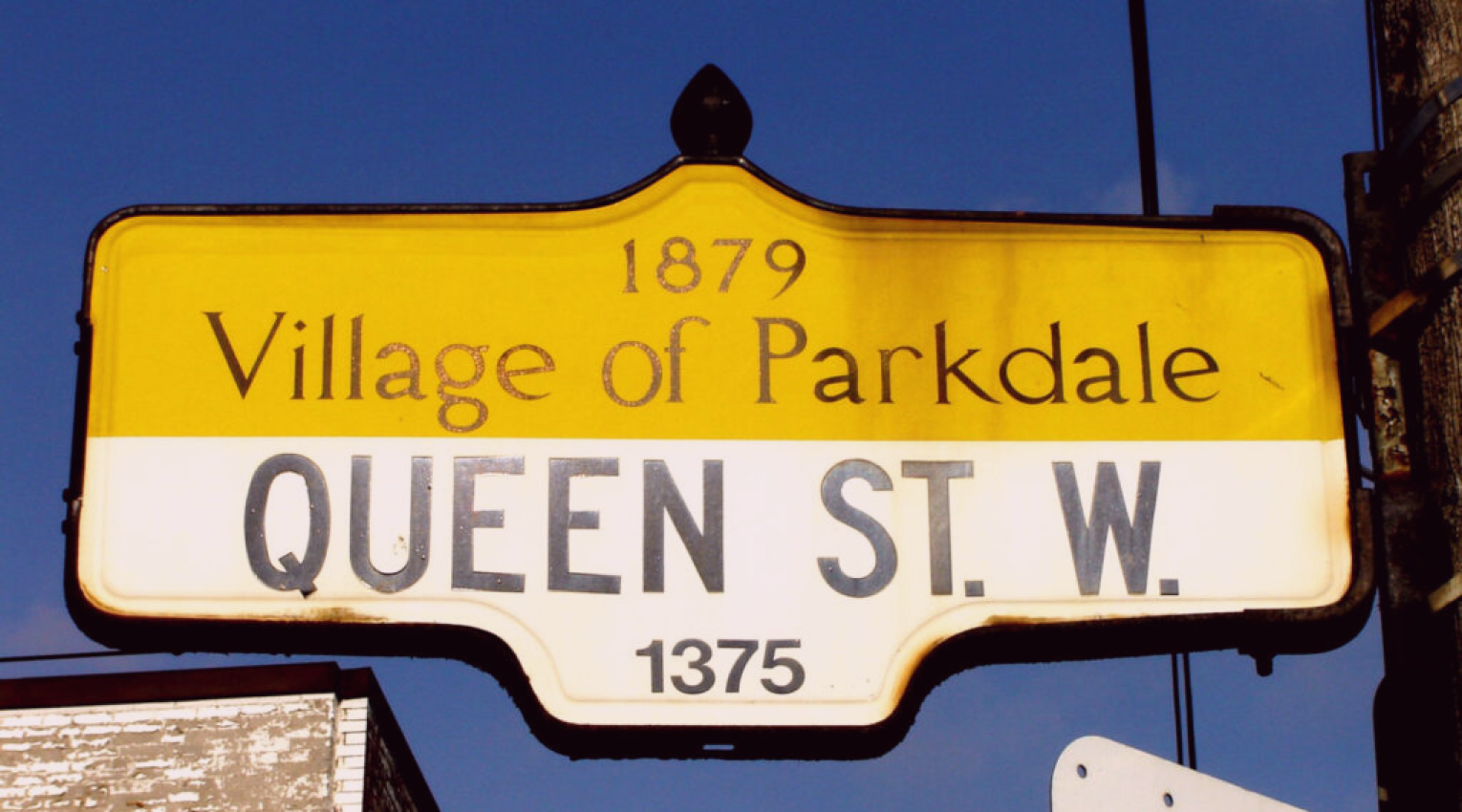 To address the challenge, we implemented a comprehensive solution
Redesigned UX and UI: We embarked on a complete redesign of the website's user interface (UI) and user experience (UX). Our aim was to capture the unique essence of the Parkdale neighborhood and its local businesses. The new design featured vibrant visuals, intuitive navigation, and clear calls-to-action, resulting in an engaging and enjoyable user experience. The redesigned website effectively portrayed the character and offerings of the Parkdale community.
Improved Content Organization
We restructured the website's content to ensure easy navigation and accessibility. Information about local businesses, events, promotions, and news was logically organized, allowing visitors to quickly find the desired information. Interactive maps, directories, and business listings were implemented to showcase the diverse range of businesses in Parkdale, promoting local economic growth. An event calendar and promotion highlights section kept visitors informed about upcoming events and special offers, fostering community engagement.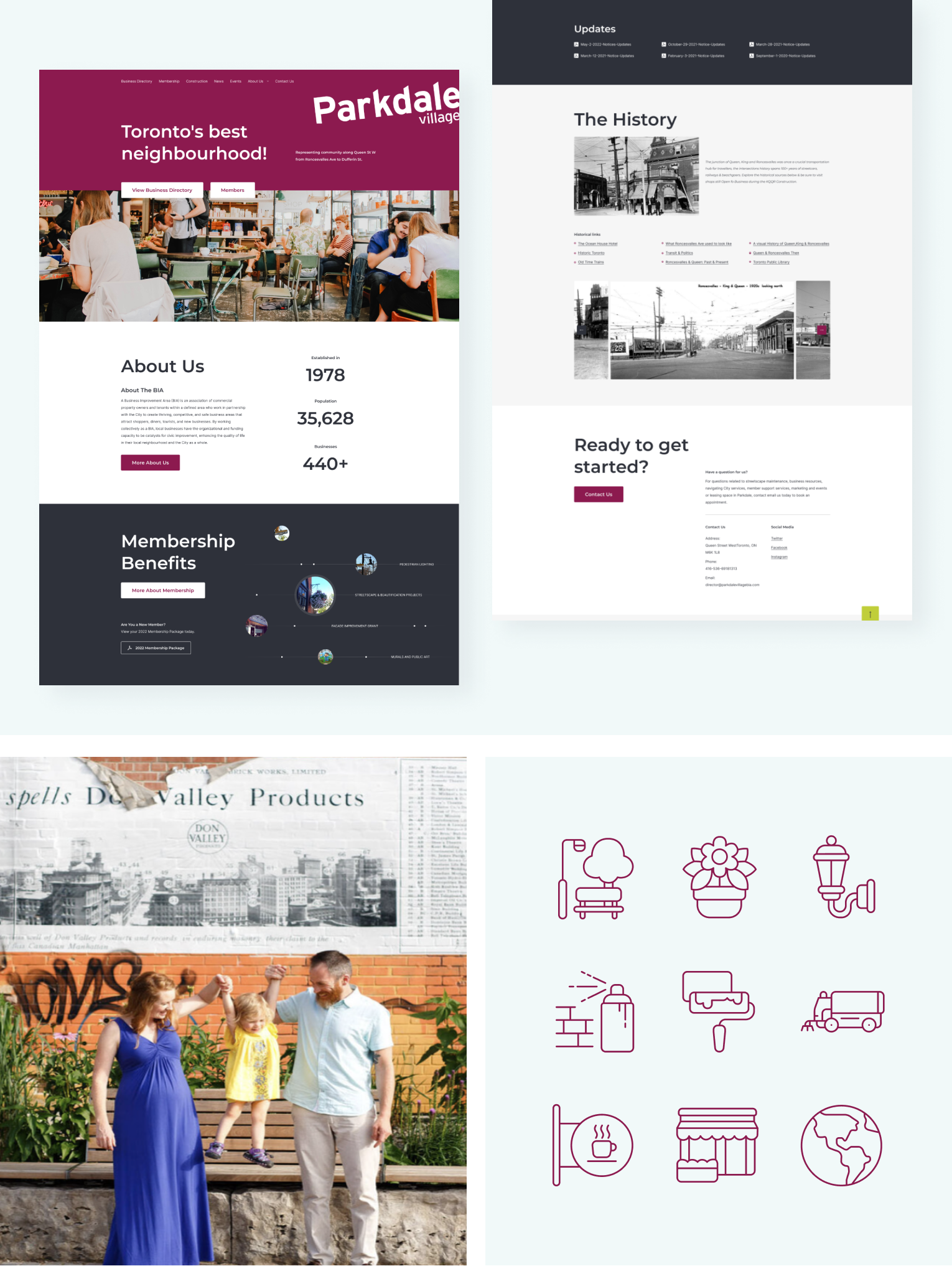 Responsive Design
We ensured that the website was fully responsive, adapting seamlessly to different devices and screen sizes. This provided an optimal viewing experience for visitors accessing the site from desktops, laptops, tablets, or mobile phones. The responsive design enhanced accessibility and usability, allowing users to engage with the website across various devices.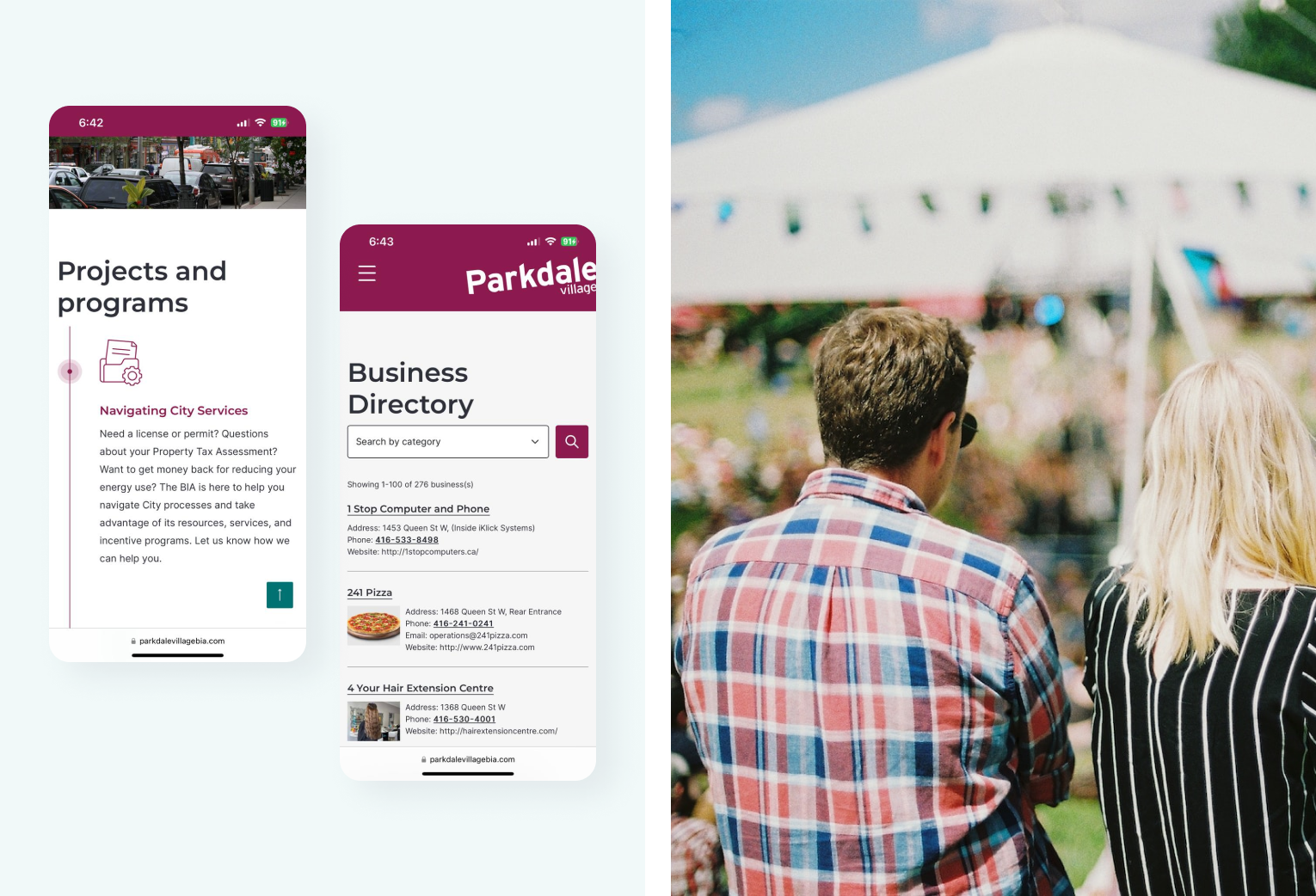 Events and Promotion Highlights
An integrated events and promotion highlights section allowed Parkdale Village BIA to showcase upcoming events, festivals, and special promotions. This dynamic feature kept the community informed and engaged, with the latest information readily accessible.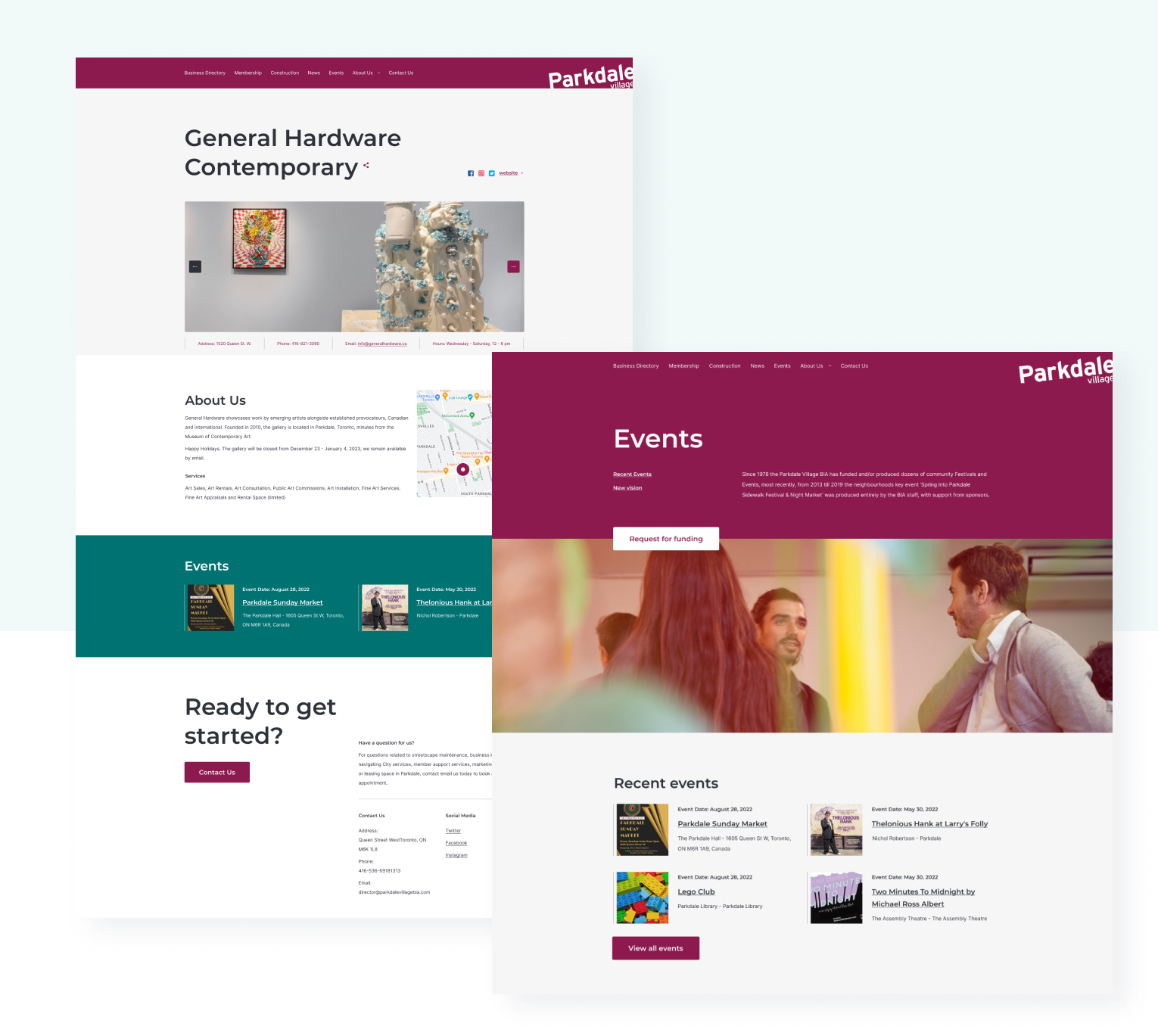 Business Listings and Profiles
To support local businesses, we developed a comprehensive business directory. Each business had its dedicated profile page, including essential details, descriptions, images, and links to websites or social media accounts. This directory served as a convenient resource for visitors to explore and support local businesses in the neighborhood. Interactive Maps and Directories: Interactive maps and directories were implemented to help visitors navigate and discover the Parkdale neighborhood. Users could easily find local businesses, restaurants, shops, and attractions, with detailed listings and key information such as addresses, contact details, and operating hours.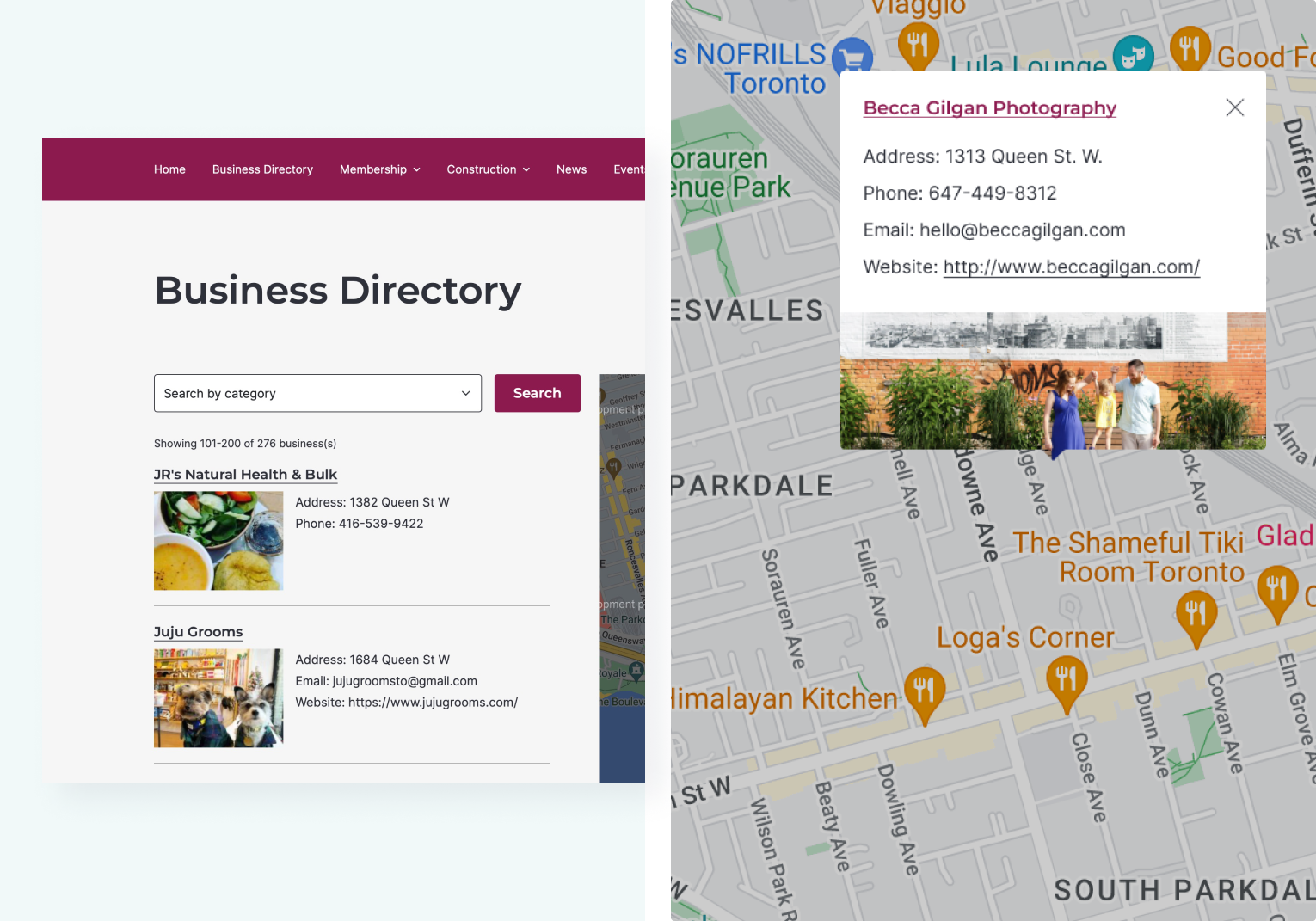 Contact Form Functionality
A contact form feature was incorporated to facilitate communication between users and Parkdale Village BIA representatives. Visitors could submit inquiries, seek membership information, or ask any other questions, promoting customer engagement and providing a convenient means of assistance.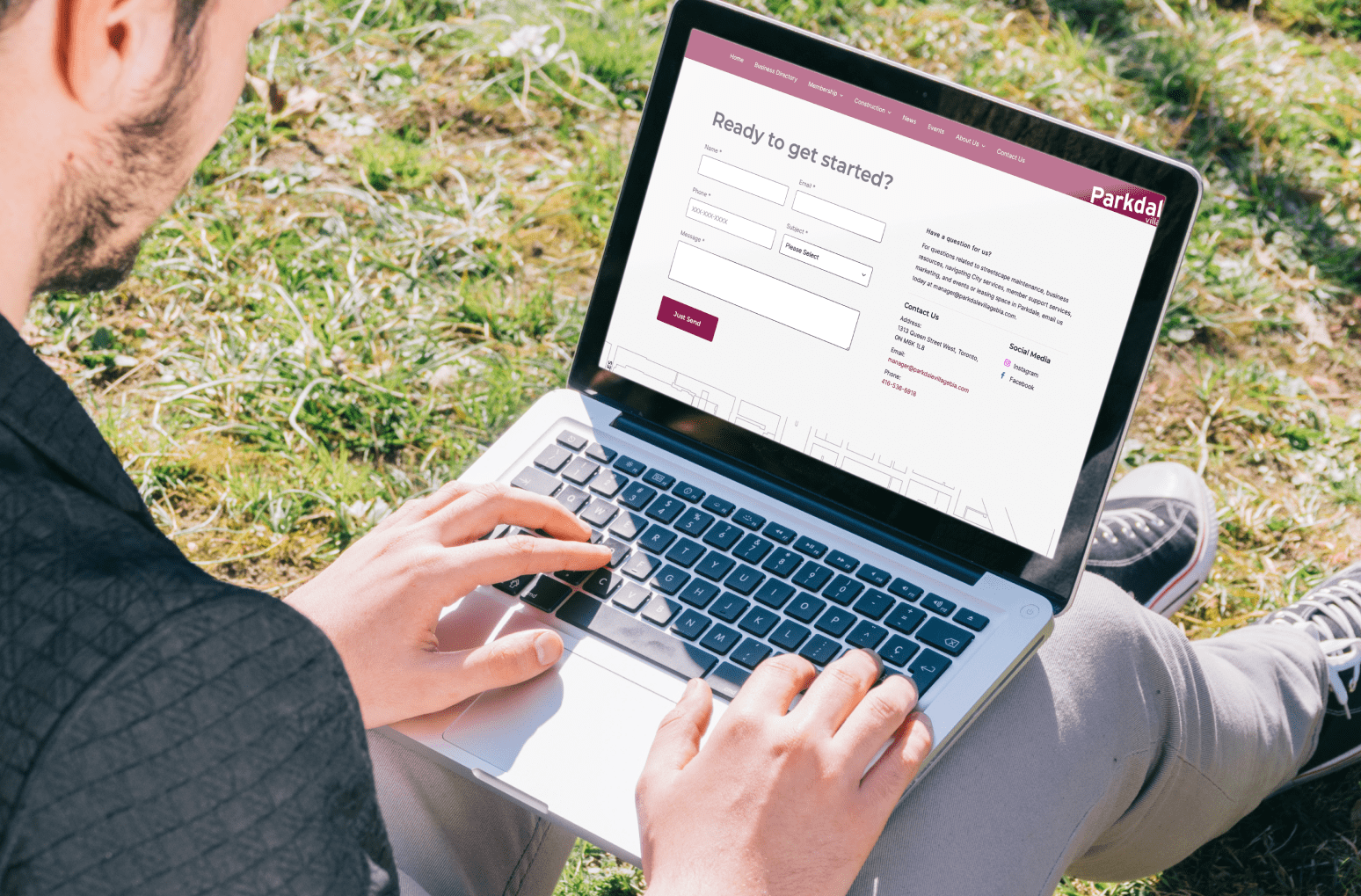 Craft CMS Development
The website was developed using Craft CMS, a flexible and user-friendly content management system. Craft CMS empowered the client to manage and update the website effortlessly, even without technical expertise. Backend Management: We provided the client with a user-friendly backend interface, allowing efficient management of the business directory and other aspects of the website. This streamlined backend management made website maintenance tasks much more convenient for the client.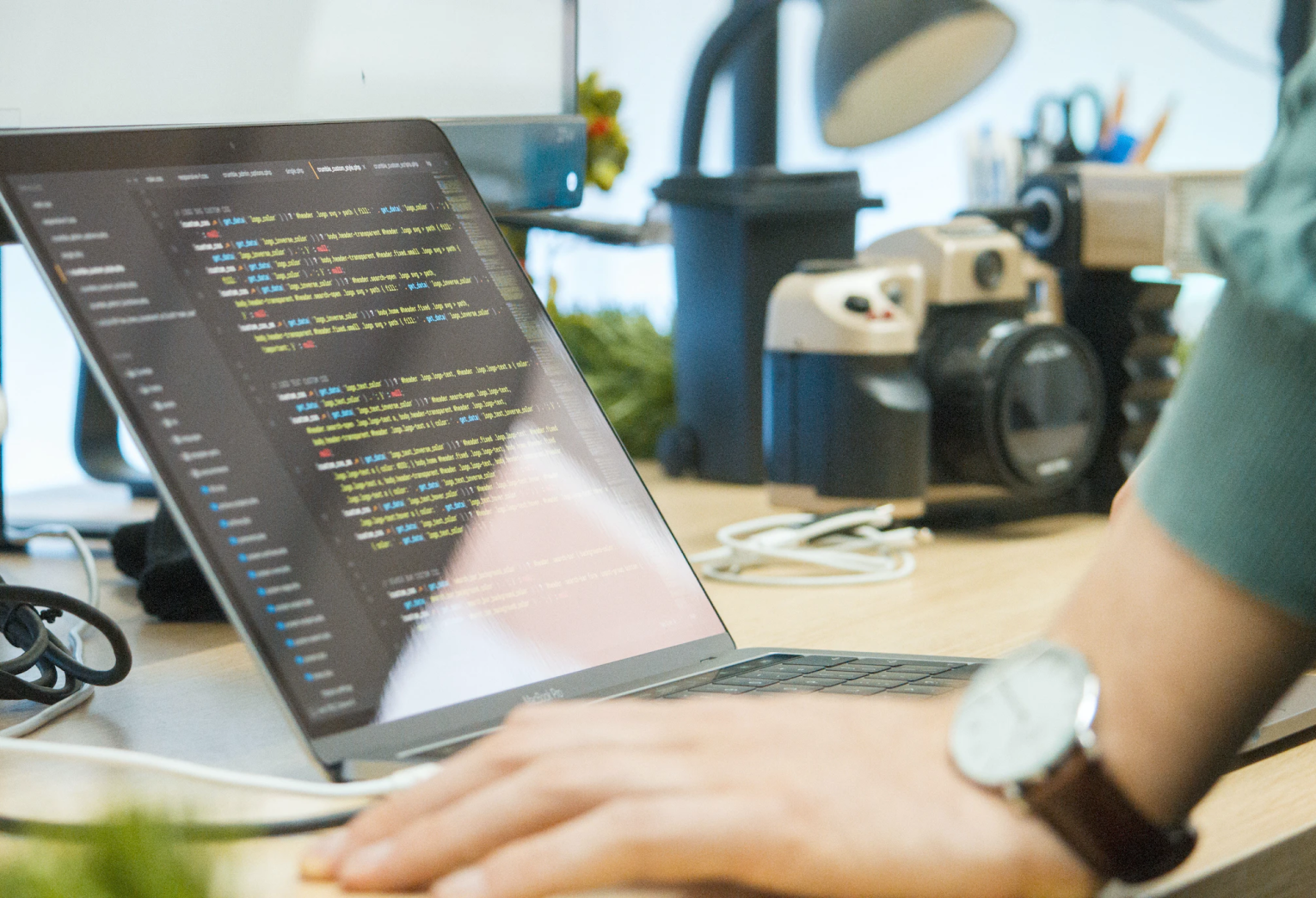 THE RESULT
By implementing these solutions, we successfully transformed Parkdale Village BIA's online presence. The new website became a powerful platform that effectively showcased the Parkdale community, its local businesses, and its vibrant events. The user-friendly design, intuitive navigation, and comprehensive features enhanced the overall user experience and fostered community engagement. We are proud to have played a part in helping Parkdale Village BIA promote its local businesses and create a thriving and connected neighborhood.