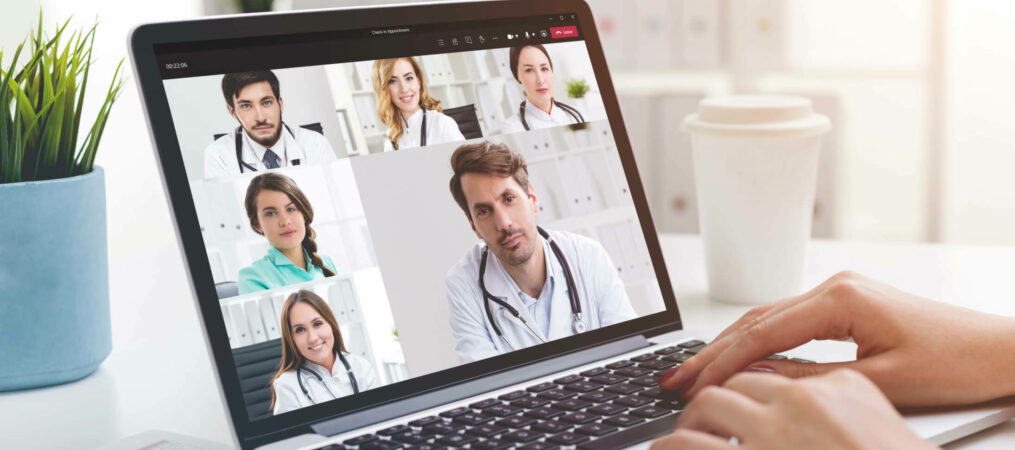 As one of the most dynamic and demanding sectors, healthcare employs more than just technologies and tools. It also views interoperable data and open, secure platforms as the key to better collaboration and patient care. Microsoft Teams is one such solution — a single hub for blurring information barriers.
Digital transformation processes are accelerating across all industries and Microsoft is a clear leader in providing digital tools, elements of digital infrastructure, and cutting edge technologies. Healthcare is one of the most significant sectors in the Microsoft ecosystem covering the needs of businesses and organizations of all sizes from large hospitals to mid-size practices to small not-for-profit organizations. As an MS Gold Partner, we are taking advantage of tools like Teams in our telehealth solution, Azure in our modern architectures and software, PowerBI to construct and generate powerful reports. These tools and services do not only simplify existing workflows but also create a flexible operational canvas that can be edited and shared in real-time. In this post, we'd like to give you some insight on the benefits of embracing Microsoft Teams as a powerful communication and collaboration platform for an organization of any size.
Now that healthcare professionals can access a number of functionalities without needing to switch apps, we suggest taking a closer look into how these capabilities can be leveraged. 

Unique Advantages for Healthcare Professionals
Below are six benefits for companies to consider as they evaluate Teams as one of the primary communication and collaboration tools.
Virtual Health Experiences
Microsoft Teams' meeting capabilities can be divided into several broad categories:
Teleconsultations for continued care provision through a remote mechanism;
Tele-expertise to confirm a diagnosis; 
Teleassistance to guide nurses;
Broadcasts for other specialists or a medical community during surgery;
Internal meetings for medical councils and multi-disciplinary discussions.

Protected Health Information and Compliance
You don't need to take any additional action to obtain or sign a HIPAA Business Associate Agreement (BAA). Teams enable businesses to enter into a HIPAA BAA by default. 
Also, Microsoft makes contractual assurances about operational compliance in accordance with the Health Information Technology for Economic and Clinical Health (HITECH) Act. This ensures transparent data safeguarding, data access, and reporting.
Secure Messaging
Teams enhances secure messaging capabilities through:
Federated messaging (encrypted exchanges from outside of your organization)
Status messaging (delegating and directing messages)
Priority notifications (repeated delivery of urgent messages)
Smart camera (virtual consultations with no privacy risks)
Data Collection
Microsoft Teams can be easily integrated into on-field data collection. While electronic health records software (EHR) is too heavy for mobile devices, the Teams platform provides an easy way to input data from smartphones and tablets.
Team Collaboration
The platform offers a predefined template of settings, channels, and pre-installed apps. This ensures that a ward, pod, department, or multiple areas within a medical center can start communicating and collaborating better with minimal effort. Meetings and conversations can happen across a range of devices, which also simplifies deployment. 
Administrative Workflows
Clinicians and staff can coordinate work, schedules, documents, tasks, and so on. Using Teams' schedule management tool, Microsoft Shifts, members can also add notes, locations, and durations to update each other with as much detail as needed. 

Supporting Scalability and Flexibility in Telehealth
Microsoft Teams and other management systems have been the gateway for consumer brands entering telehealth and virtual care. At the same time, B2B brands have also shown the desire to update health systems at scale. 
At the beginning of the unprecedented public health crisis in 2020, healthcare specialists were using ad-hoc strategies. But what started with baby monitors for patient monitoring and Zoom for socially distant family meetings grew into strategic virtual services. 
It doesn't mean that Teams wasn't used before. But now, instead of using tech as point solutions to specific problems, many are adapting workflows with system-wide software. And as everyone's minds have been opened to the value of virtual care, we see an ongoing telehealth expansion.
Case Study
One of the great examples of how Microsoft Teams provides a solution to many challenges for integrated healthcare is the case of NHS Arden and GEM Commissioning Support Unit. AGEM's intention was to migrate from the legacy position to cloud-first services.
The main challenge before migration was duplication and wasted effort. With the help of Microsoft's partner like Convergine, they set the goal to reduce the number of system silos and improve the team's ability to support end-users with Microsoft Teams, Office 365, OneDrive, and SharePoint. The suite of tools is described as a "Swiss Army knife" with familiar experience flows that helped fast-track the adoption.
Chris Reynolds, Head of Innovation and Product Development at AGEM, pointed out that Microsoft Teams created a major change in their method of working. For instance, it offered a way to connect multi-disciplinary teams, customers, and the supply chain across dispersed geographies. Not to mention, they maximized the help of Teams' technical specialists to achieve the best return.
Takeaway: Increasing Impact and ROI With Microsoft Teams
According to the Total Economic Impact study of Microsoft Teams, improved collaboration and information sharing helps save up to 4 hours per week for information workers. Teams also reduced the total number and duration of meetings and compliance and eDiscovery efforts. Across 350 users in the study, the savings on working with customers totaled $759,493 over three years.
These are just a few figures pulled from the study. But it's enough to gauge the quantified benefits of MS Teams. While not in the study, it's also important to highlight the qualitative changes that Teams can bring to clinics, medical practices, hospitals, and medical centers — for instance, user experience and connectivity.
If you'd like to calculate how Microsoft 365 solutions can improve your business metrics, you can use this ROI calculator.
---
Relates Services