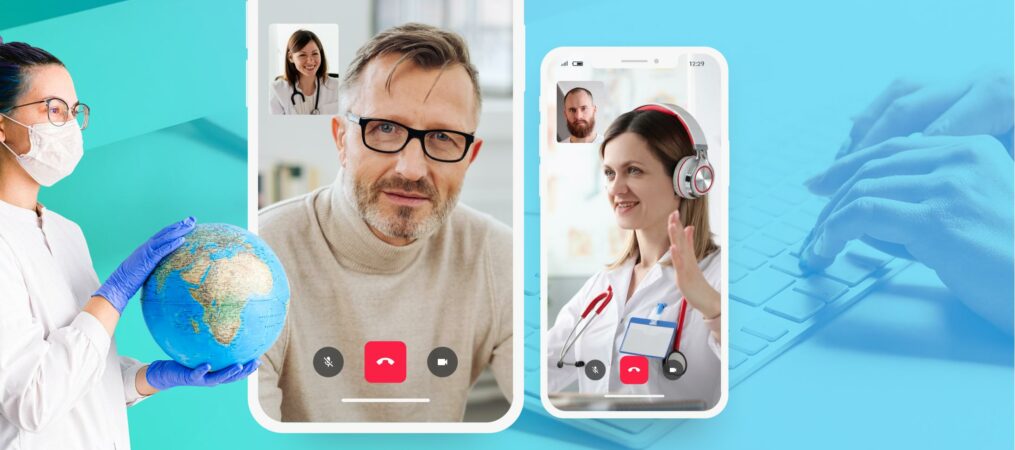 The COVID-19 pandemic intersected with the development and maturation of several digital services, including those in healthcare. The use of telehealth was dramatically accelerated as a result.
In a 2021 Canadian survey, 72% of respondents received medical advice by telephone, 58% made an appointment remotely, and 42% used digital tools to support or monitor their health. 
Does this mean we've got all specialized vocabulary and buzzwords figured out? Unfortunately, no. The two terms that are often mistakenly interchanged are telehealth and telemedicine.
Let's lift the veil of mystery (or confusion) in this article and unpack the differences.
Definitions: What Is Telehealth and What Is Telemedicine?
Telemedicine (e-medicine) refers to the use of digital information and communication technologies by physicians to deliver medical services. It enables physicians to evaluate, diagnose and treat patients online - a convenient alternative to an in-person medical visit. 
Telehealth covers a broader scope of health-related services. Similarly, it facilitates remote communication between patients and specialists through a computer, tablet, or smartphone. But here, specialized patient care includes clinician contact, advice, reminders, education, intervention, monitoring, and remote admissions. 
Both terms are not considered a distinct medical specialty, rather a different type of delivery.

What Services Are Included?
You're in the hospital, being diagnosed by a physician who is in a distant location. This is telemedicine. 
You're at home with a fever, speaking to a remote physician who can write a prescription and then forward you to a pharmacist and possibly a nurse. This is telehealth. 
Perhaps the difference is still not clear, so let's move on to the services available under each term.
What Kind of Care Can You Get With Telemedicine?
Telemedicine is often used for diagnostics, follow-up visits, management of chronic conditions, medication management, and specialist consultation. To put it simply, telemedicine includes all services that a physician can provide remotely. 
This can happen in a clinical environment like a hospital. This application of remote technology often involves the support of other clinical staff and diagnostic equipment.
What Kind of Care Can You Get With Telehealth?
Telehealth encompasses many domains of applications, such as: 
Preventative check-up
Follow-up visits 
Remote chronic disease management
Assisted living center support
But what makes telehealth distinctly different is all its subcategories, going beyond physician care: 
Telenursing: Includes consultations, triage, and providing direct nursing services.
Telenursery: Neonatal care from hospital nurseries and their pediatricians.
Telepharmacy: Refers to writing prescriptions, refill authorization, and monitoring. 
Teledentristry: Assessment through photos/videos, supervision after procedures.
Telenutrition: Counselling with an RD, weight management, assistance with meal planning.
Teleneuropsychology: Allows the implementation of standard evaluation techniques for cognitive disorders.
Telepsychiatry: Individual therapy, group therapy, family therapy, medication management. 
Teleradiology: Interpreting medical images. 
School-based telehealth: Connects students, parents, school nurses, and urgent care centers to provide instructions and reassurance.

Similarities: Where Telehealth and Telemedicine Overlap
Both fields opened up new opportunities in the medical care industry, meeting a remote demand, driving innovation, and making other practical contributions. These positive changes came with a few drawbacks - listed below.
Pros of using telecommunications in the healthcare industry: 
Reduced costs 
Improved patient experience
Better access to specialists
Accelerated processes
Ease of maintaining care schedules
No exposure to infection
Cons: 
Not always covered by insurance
Requires access to technology
Possibility of diagnosis errors
Why Telehealth and Telemedicine Are More Important Than Ever
At the start of the pandemic, 97% of healthcare leaders expanded telehealth access. But after a year and a half, the need for telehealth is still elevated. A major crisis causes major changes and, thus far, it appears our lives won't return to what they used to be.
Primary care and specialist clinicians can continue doing visits using telehealth not just as a replacement for office visits but also as additions. The pandemic has increased patients' willingness to try telehealth. Having tried this type of delivery, they are now more open to virtual longitudinal care. 
Any expansion of telehealth services is also good news for those living in homes and healthcare settings in rural areas. This and last year showed record numbers of Canadians willingly leaving cities for smaller towns. 
Specialists in cardiology and psychiatry called the pandemic a "blessing in a very awful disguise". Prior restrictions on what physicians, nurse practitioners have been loosened, and now telehealth has the chance to "come out in a better way".
Why Terminologies Are Often Confused 
Legislation and public health documents can be held responsible for this. For example, this report by WHO effectively diminishes the difference between telehealth and telemedicine, which is understandable but misleading. The report acknowledges that telemedicine is restricted to service delivery by physicians only, while telehealth covers a broader area of services (provided by nurses, pharmacists, and others). But the authors still used telemedicine and telehealth interchangeably as synonymous.
Going forward, you may notice similar inaccuracies in terminology, but what's more important is that you know the difference. Customers need to know what to ask for in order to receive a good service. And service providers need to describe their offers accurately to get satisfied customers.
---
Relates Services