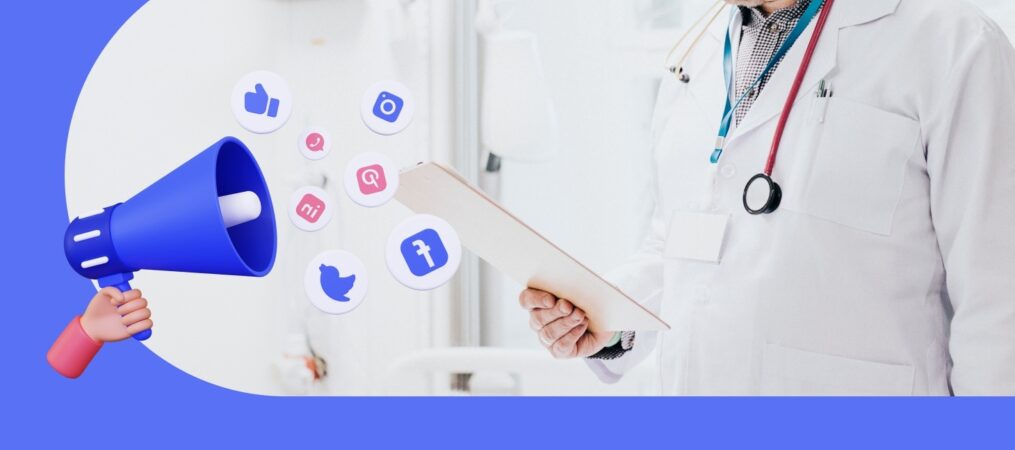 Many industries have embraced the realities of the digital age in their unique ways. Digital marketing for the healthcare industry is one example of how communication has expanded. But as the healthcare industry changes, new challenges are introduced.
This article will look into the barriers for digital marketers in healthcare organizations and what can be achieved if those barriers are removed.
Key channels of Digital Marketing
Here are the channels that a healthcare digital marketing company typically takes into consideration:
Search Engine Optimization (SEO)
SEO is in perfect alignment with how many patients are looking for healthcare providers. They'll search the relevant terms using a search engine - and there your practice will be, at the top. SEO efforts are meant to expand reach and brand awareness and improve patient acquisition rates.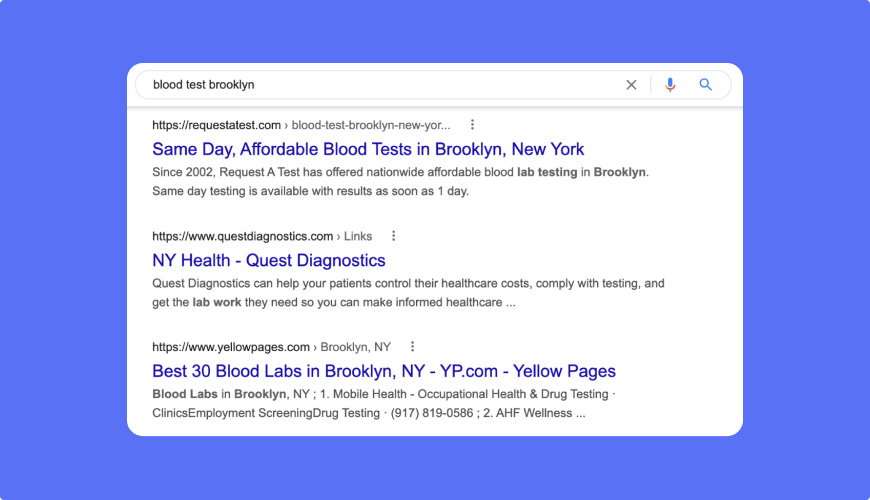 Above are local listings that integrate the best SEO practices - wisely-targeted, natural keyword usage, quality content, and proper backend (backlinks, tags, etc.). Also, having a Google My Business listing is key for a successful local search.
Pay-Per-Click Advertising (PPC)
While SEO is a long-term investment, PPC generates immediate results. This allows you to bring a message to a highly targeted audience within a time-sensitive period. PPC is a great advertising opportunity to catch up with users who have already viewed the site and convert them into patients.
These ads have all the right components - business intro, catchy taglines, and unique voices.
Social Media
Since everyone is on social media, your organization should claim your space there, too. The best way to position yourself there is to combine strong branding with patient-first public service. LinkedIn, Facebook, Instagram, Reddit, and TikTok are some of the key platforms for business to explore.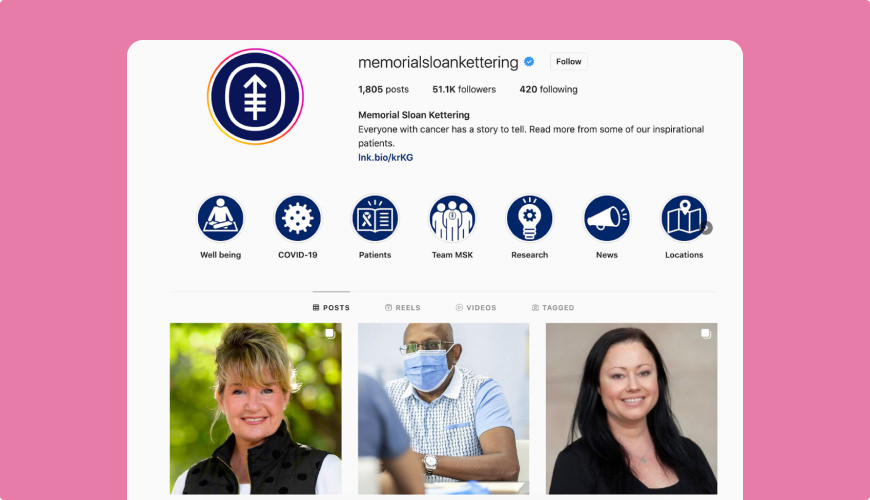 Memorial Sloan Kettering uses their Instagram to the fullest - advertises its services, combats misinformation, gives advice, communicates with users, and strengthens the brand overall. By doing so, they increase trust, build rapport, and improve patient acquisition and retention.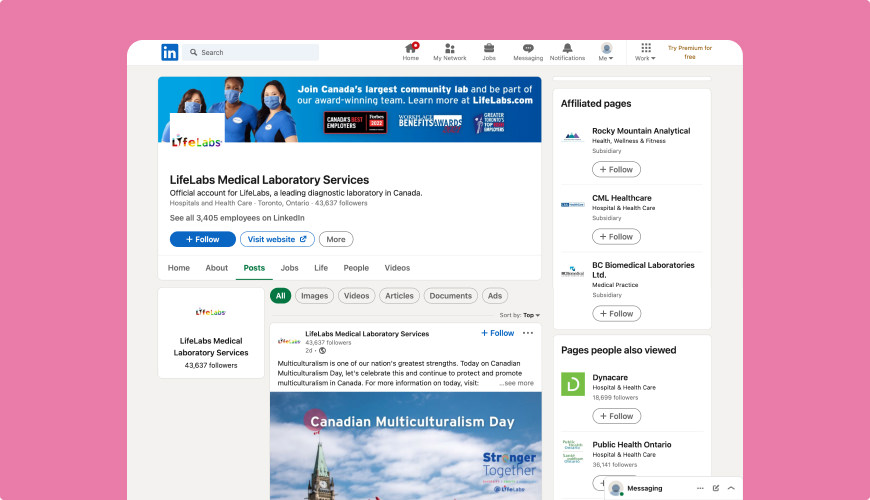 LifeLabs is active on LinkedIn communicating with their audiences there that also including employees on a variety of topics. 
Email and Newsletter Marketing
A welcome email, a launch of a new product/service, a booking confirmation, health resources - email marketing can be a channel for everything.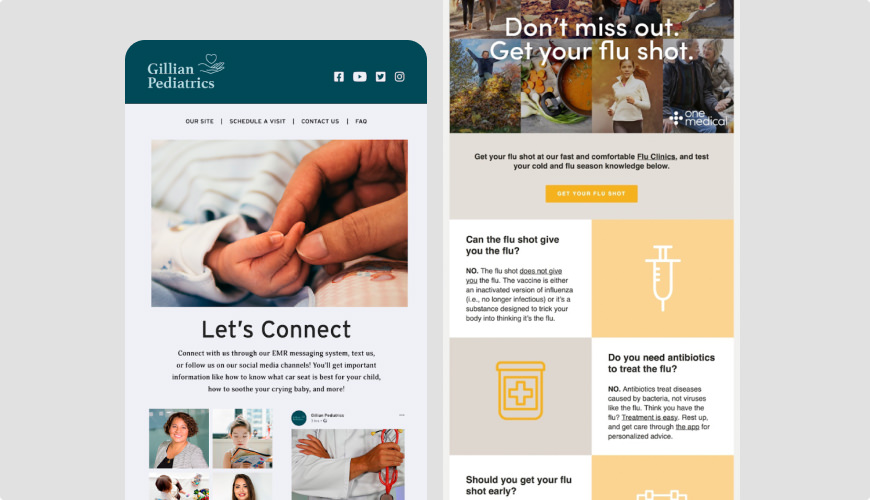 The example on the left is more promotional, the other one is more informational. You can easily alternate or mix both, depending on the recipient or the current strategy.
Mobile
This covers every way of delivering marketing messages to patients' smartphones, tablets, and/or other mobile devices. Out of them, SMS is the easiest to set up and apps are the most engaging.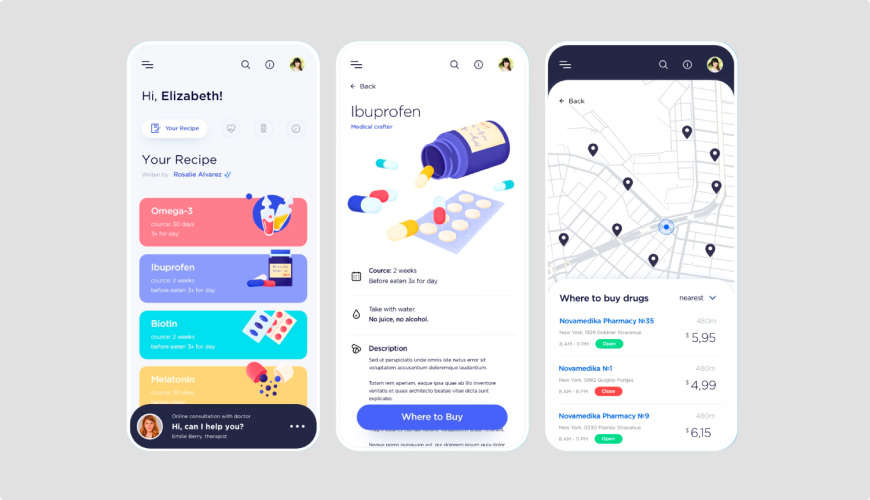 This digital pharmacy has it all - in-app orders, messaging, personalized features, a health data hub, and more.
Text messaging could also be used to pre-screen patients' or clients' feedback or service review prior to inviting them to leave a review on platforms such as Google Local Listings. As a part of social media marketing, it makes collecting positive reviews much more accurate and predictive. 
Why healthcare organizations resist digital innovation
The way healthcare is structured has placed even tighter limits on what marketers can do and how. Sometimes, these boundaries are created by the organizations themselves, while some are largely inherent to the industry. It's essential for marketers to work within those boundaries.
Regulation
Complex sets of regulations—such as HIPAA/PIPEDA, GDPR, The Data Protection Act, etc.—touch virtually every aspect of the healthcare industry, from delivery to sales. By law, healthcare marketers are restricted from using certain tools, setting up referrals, and integrating certain communicative and visual elements.
While they're necessary to protect consumers from potentially misleading marketing practices, these rules make ethical advertising harder.
Risks (Bans, Penalties)
Platforms have rules to weed out deceptive advertisements that are enforced through bans and penalties. Some medical phrases (prescription drugs, experimental treatments, recovery-oriented addiction services, etc.) cannot appear on your Google Ads copy, post-click landing page, keywords, or even web copy.
Some platforms also prohibit targeting medical conditions and remarketing ads due to privacy concerns.
Budgets
While pharmaceutical firms usually have robust marketing budgets, healthcare providers often lag behind. Larger organizations tend to focus on donor outreach, while smaller practices don't even make digital marketing a priority. And the smaller the marketing budget is, the fewer opportunities to reap the benefits there are.
Societal factors
Low levels of digital and health literacy are other contributing factors. When the general population—the elderly, in particular, lack the ability to use technologies to find, evaluate, create, and communicate information, these audiences become hard to reach.
Technology can also act as a barrier, especially considering that it's getting smarter and more complex. On the one hand, AI and new digital platforms open up possibilities for marketers. But on the other hand, their effectiveness may be limited - target audiences may not have gained a sufficiently nuanced, comprehensive understanding of modern tech.
Also, marketers are left searching for the balance between establishing authority and demonstrating empathy. And failing to do either can negate the impact of the entire campaign.
Benefits of Digital Marketing for patients and organizations
The wave of digital migration has rendered many traditional promotional channels obsolete. Digital marketing for healthcare professionals has now taken its stead to bring the following benefits:
Strengthens the brand - Digital marketing efforts help demonstrate what makes your healthcare brand different from the other options on the market.
Manages perceptions and expectations - Marketers can help organizations control what patients think about the care before they experience it.
Offers personalized care - Users will see ads for the types of services they're interested in, instantly creating a perfect match between offers and their needs.
Empowers consumers to make smarter, healthier decisions - Informed consumers are able to assume more responsibility, make better health decisions, and understand what issues require professional help.
Takeaway
As you can now tell, despite all the challenges, healthcare marketing is extremely rewarding. The ability to connect with audiences digitally is more necessary for both providers and patients than ever. Fortunately, marketers have plenty of tools at their disposal, so they have everything they need to address the ever-evolving demands of the healthcare industry.