Product recommendation tools: how a simple personalization strategy can spark growth
March 04, 2021
/
Time to read:
4 minutes
Ecommerce obviously holds massive potential. In fact, Statista says that approximately 22% of all retail sales around the world will happen exclusively online by 2023. While ecommerce offers amazing opportunities for businesses of all sizes, it's like anything else: the tools you use will define you.
You can have a beautiful ecommerce website with no traffic, and you can have traffic with no sales. There are many things you can do to rectify this situation, but in this article, we're going to delve into a commonly overlooked yet extremely important facet of ecommerce: personalization. More specifically, we're going to look at product recommendation tools and what they can do for your ecommerce sales.
What is product recommendation?
Product recommendation has a front end and a back end. On the front end, product recommendation tools display a set of widgets that display a set of products tailored to the user. On the back end, product recommendation is much more complex. Years ago it was as simple as assigning recommended products by checkmarks or drag'n'drop by website admin at his discretion or according to certain criteria. Not anymore.
Nowadays, product recommendation tools of big websites with thousands of buyers and hundreds of thousands SKU's typically collect user data, including user-specific data and aggregated data based on items the user has viewed or added to cart, brands users like, availability, price points desirable to the user, and more. Then, product recommendation tools leverage AI and their algorithms to choose what products might appeal to the user. A product recommendation strategy might be created to help your ecommerce business reach certain sales goals.
For example, your sales team might be interested in encouraging cross-sell sales from new categories on your website, or your sales department might be interested in driving sales towards a certain brand. The right product recommendation strategy is vital to the success of your efforts. To get the best results possible, recommendations must be tracked and customized as needed, and this must be done consistently and continuously for the various categories of products on your cross-sell matrix.
Which product recommendation strategies really work?
Simply put, no two product recommendation strategies will be exactly alike. A cookie cutter approach simply won't work, because your ecommerce business has different needs from any out there. Still, there are a few solid blueprints we can use to get the ball rolling. Let's take a closer look at a few examples of product recommendation strategies you can put into play to see growth:
Promote a specific brand with product recommendation tools
Some customers love certain brands, so the best way to spark their interest is to give them what they want. Using this strategy, you can use product recommendations on various pages of your site. It's important to also include such recommendations on the product page, as well, because it is one of the main entry points for any eCommerce site. The first two slots on the widget would ideally be assigned to products of a specific brand, while the rest would be taken by products that users usually look at with this product. Displaying such cross-sell recommendations in relevant categories look organic to the user.

Use product recommendation tools to cross-sell from the checkout cart
When you're waiting in the checkout line at a convenience store, do the candy bars and chewing gum catch your eye? These items are placed strategically to encourage you to make an impulse purchase, and the same psychology works when you cross-sell from an eCommerce checkout cart. These items should ideally be less expensive than the main purchase but still be personalized. For example, certain products based on a user's history of interaction with the eCommerce shop could prove helpful for encouraging last minute sales.

Offer product recommendations in the overlay after products are added to cart
After a product has been added to the checkout cart, many eCommerce sites display an overlay showing details about the successful addition of a product to the cart. This overlay offers a useful space for product recommendation tools. Here, you can offer related accessories that fit the user's price range and other data. There's not a one-size-fits-all algorithm for this strategy; different algorithms might need to be tested for various product categories to see what works best for a particular scenario. Still, this can be a fruitful product recommendation strategy to leverage.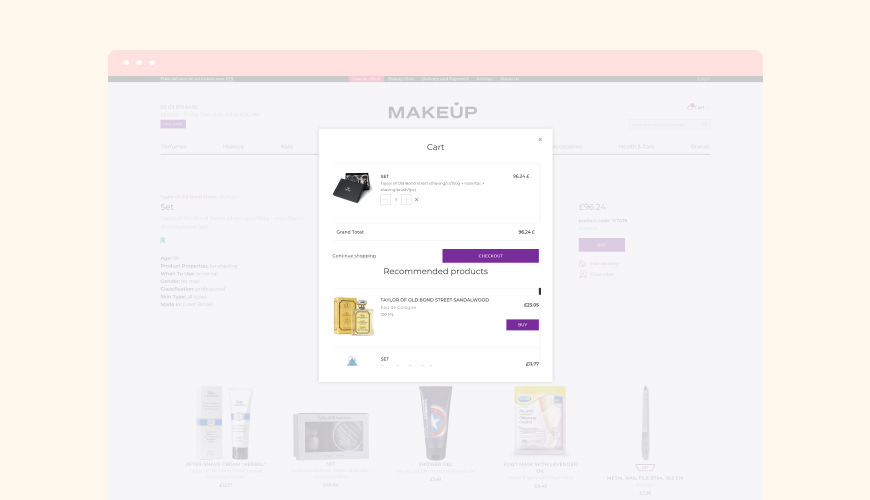 Empty search "Widget"
When the name of the desired product entered incorrectly you will see a custom empty widget giving you the option to go to the catalog with a feed of product recommendations based on the knowledge of the system about your preferences. This simple strategy has proven to be effective in making customers stay and continue their buying journey.
Wrapping up
Of course, those are just a few ways product recommendation tools can be used to get the most out of your eCommerce site. A few other common strategies you might have seen on other websites might include "similar products" listings, promotional items listed on the product recommendation widget, and "products you might like" listings.
The bottom line here is that, when used correctly, personalization of product recommendations could mean huge possibilities for online shopping. While it might seem easy, this couldn't be further from the truth. Precise strategies must be put into place. Making successful predictions means laying the groundwork, having the right system in place, leveraging the right analytics, and more. Once these keys are discovered, new doors in your eCommerce growth can be unlocked.
Other good reads you might be interested in: