However, this becomes infinitely more complicated for most business owners when they start hearing about landing pages and learn that a landing page and a home page are two completely different things.
So, you may be thinking: "okay, but why do I need a landing page if I have a great home page?"
Good question. There's plenty of confusion over the terms 'landing page' and 'home page' when it comes to web design. The trick with landing pages and home pages is to understand that—while they serve very different purposes—they are equally important to your business' success.
Home page vs. landing page
The fundamental difference between a landing page and a home page is this: Your landing page focuses on one, clear, call-to-action. Its targeted goal is to increase conversion rates, whether that's a purchase, a subscription, a download, or other action.
Your home page, on the other hand, is a permanent page on your root domain (think "www.yourbusinesshere.com") and offers your customers a comprehensive view of what your business does. It's an engaging snapshot of your site content and incites visitors to learn more about your business' products or services. It should encourage your customers to visit other pages on your site to glean more information about what your company does and what you can offer them.
A home page below provides a snapshot of what StartUpHere is about and invites visitors to explore its community including news, events, training, and partnership opportunities.

A landing page is designed with one purpose in mind: to direct attention to one product or service and to increase conversion rates. A landing page is usually a temporary page associated with a marketing campaign, event or launch that collects traffic from several specific sources to encourage conversion. They are part of your site but aren't necessarily searchable on your site. Users can be directed to your landing pages through social media, AdWords, or other pay-per-click options that work best for your particular marketing campaign.
Below is a stellar example of a landing page featuring a specific event and enticing visitors to learn more about it and sign up.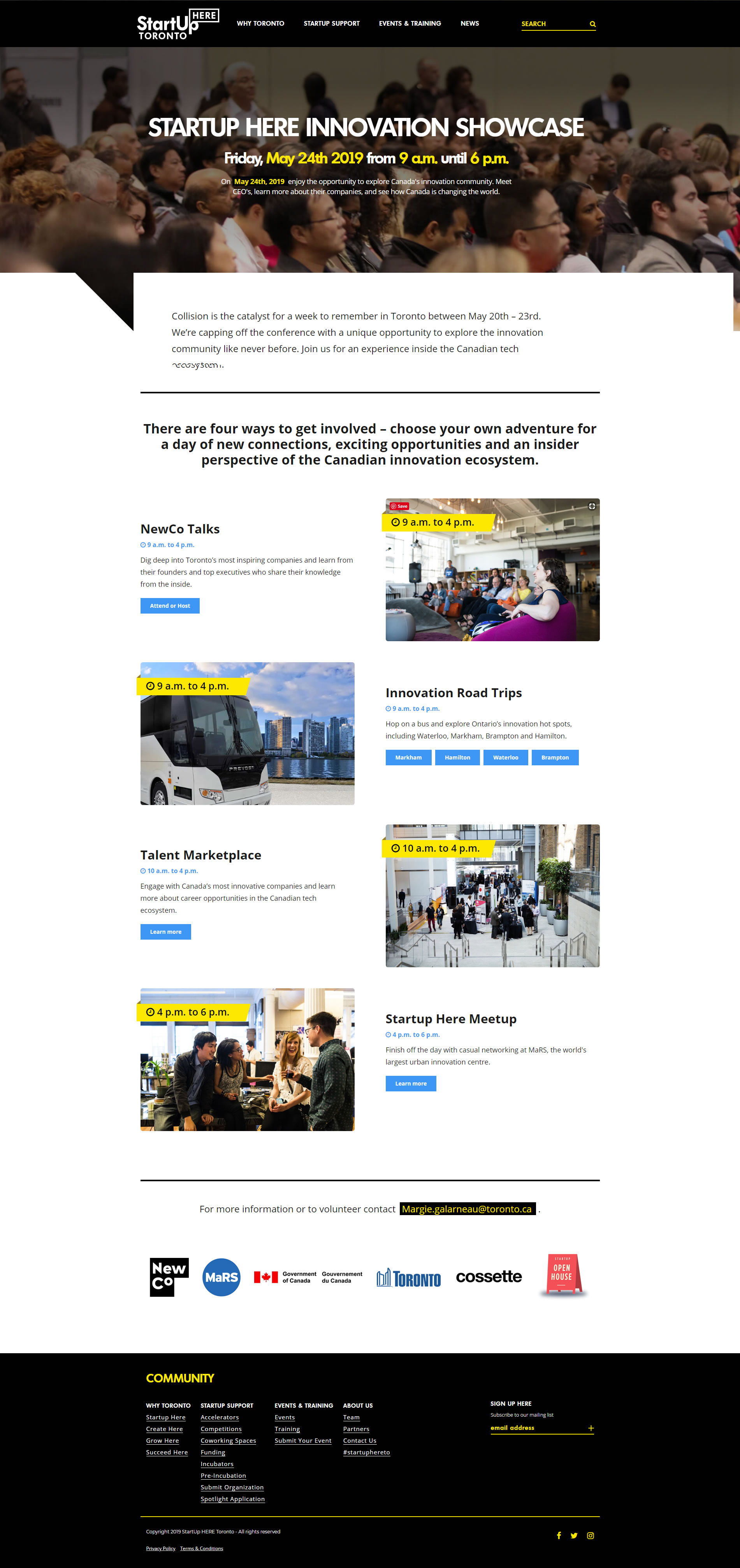 For example, let's say you launch a new product and you want people to buy it. Of course, you'll make mention of it on your home page, but this one new product is not your entire business. So, your home page will remain mostly the same overall.
What will happen instead is that you will have a landing page created that will talk in depth about the product and use a clear call-to-action to direct your customers to buy the product or get in touch.
Here are a couple of scenarios that can better help explain the difference between a landing page and a home page.
What should I use when I'm launching my business?
While the launch of your business is a huge event, it's not the time to use a landing page. A home page is the natural starting point for your customers' interaction with your company, which is why when you're launching a new company website you want customers to get used to seeing your home page. Establish your home page first and build out from there.
What about when you're running Facebook Ads?
Whether it's Facebook, Instagram, or another social media campaign, when you're running social media ads, you're directing people to a landing page. This is because users on social media aren't there to look at your business: you have to entice them. Your ads are directing them to a landing page because you're using the launch of a product or marketing campaign to draw them in and keep them interested. Your home page isn't going to do that.
What about when you launch a new product?
New products and landing pages were made for each other—literally! Your landing page should be created as part and parcel of your marketing campaign to draw attention to your new product. It should act as the jumping off point to convert traffic and assertively promote your new product with nothing else to distract your customers' attention.
There are a ton of other examples out there for when landing pages should be used over home pages, but what's important to remember is that a landing page is part of a bigger picture. It's not just about a temporary page that comes and goes with a couple of Facebook ads, it's about your business' web presence. A properly designed and implemented landing page will be able to target new customers, grow your business' web presence, and increase your online sales. If you don't have a landing page or you entrust the design of your landing page to an inexperienced company that may not know how to properly structure an attractive and concise landing page, your conversion rates will plummet. This could mean the difference between a marketing campaign that increases conversion rates and your business' overall sales, or one that eats up your budget with no real success.
We've had years to perfect our web design approach and we know how to craft landing pages that increase conversion rates and give you the most bang for your buck. When we're working with clients, we focus on demystifying the process surrounding website design. We understand the frustration of being hit with phrases you don't recognize, which is why we peel the tech jargon out of our work and show you the benefits of things like landing pages—no tech talk needed.
Want to learn more about design?  Check out our recent posts.