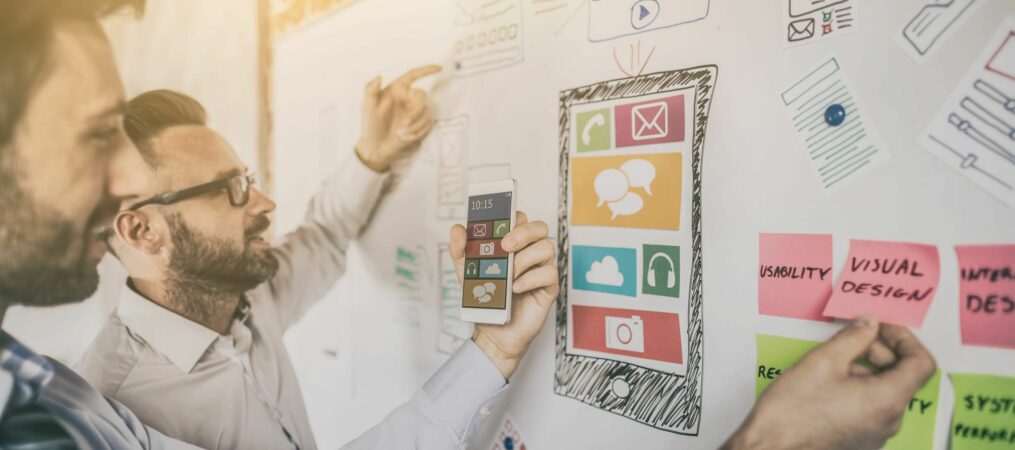 Whether you want to create a website, software application, or digital product, creating a high quality user experience (UX) is one of the key phases of the development process.
Good UX helps your customers solve their problems, making them feel satisfied with your products or services and building brand loyalty. In other words, effective UX gives you a competitive edge, helping you to get ahead of the competition.
With UX analysis, and a customer-centric approach come into play, businesses need to raise the bar on how they interact with and engage their customers, and anticipate their needs. Good UX is informed by an analytical and data-driven process that requires expertise, strategic thinking, a clear vision and much more.
At Convergine, we are all about putting the web to work for our customers and UX analysis is a key component of our web product development process.
Our typical web product development cycle includes UX analysis, Design, Development, Quality assurance, User acceptance testing, Launch, Maintenance and Support.
Why start with UX analysis?
The UX analysis phase is one of the most important stages in designing a product that effectively addresses customer needs, minimizes risks associated with assumptions, and ensure the product will maximize its return on investment. UX analysis findings serve as a user experience framework for designers and developers to help them make appropriate decisions throughout the process and embed user experience insights in the final product.
Step 1 - Get to know your customers
UX analysis is all about your customers. You start it by thinking about who they are, where they are located and where they spend their time, their motivations, why they use your product and services etc. This is when we ask a lot of questions in order to minimize assumptions and the risk of potential challenges in the future. There are a variety of manual and automated tools that can be used to gather this information, including surveys, group discussions, sales and competitor analysis . Conducting stakeholder interviews is one of the most efficient methods, however it can be quite a challenging and time consuming process, especially when you deal with many customer groups across your organization. What sets you up for success at this stage is engaging right people and facilitating useful conversations. If done well, you will come to informed, insight-driven conclusions.
Step 2 - Create personas
Once we have an initial set of information about our customers, it's time to creating one or more 'personas' that exemplify your typical customers. Essentially, we build a profile about each specific type of customer or a user group based on their shared attributes, goals, behavior patterns etc. Your personas represents your key audience segments around which we build a product. In the context of UX, the main goal of personas is to guide the design and development teams as they build a comprehensive and functional design. Creating personas is a very collaborative exercise that require input from numerous stakeholders.
Step 3 - Map out your user journey
Once you have a good idea of who your customers are, and why and when they use your products or services, it's time to map out the path your customer will take to do business with you online . A journey map demonstrates a customer experience or a set of steps to complete a specific task. In the digital world, tasks vary from accessing necessary information to completing a certain function, such as buying a product, paying a bill or making a reservation.
Mapping out a detailed customer journey establishes clear objectives and creates interactions that are effortless, intuitive and fast. The number of different customer journeys depends on the customer groups and their goals/needs that were identified in the persona stage. This step is very important and can take quite a bit of time to finalize the user journeys and overall user experience landscape.
When done right from the very beginning, you set a solid foundation for interaction between customers and your business.
Step 4 - Design the information architecture (IA)
IA goes hand-in-hand with UX and is a structure for designers and developers to build upon. At this stage, information is grouped in a logical and usually linear way (based on our user groups, scenarios, goals and supporting analytics) to ensure customers can easily navigate and consume information, and achieve their desired goals. A technique called 'card sorting' is an efficient collaborative exercise enabling us to categorize content and form a rough first draft of the IA.
It is also good practice to test IA by engaging users or customer focus group. The goal of this step is to test our IA, not users and their behaviour. Utilizing a "tree testing" usability technique (used as a follow-up to card sorting) enables us to evaluate and validate the performance of potential IA options.
The outcome of good usability testing is the identification of gaps in the content flow and the insight to refine categories and eliminate unnecessary steps well in advance of design and development phases.
Step 5 - Draw wireframes
Building wireframes precedes the design stage and allows us to arrange content and visualize its structure and concept. Clickable wireframes serve as a useful low-fidelity prototype that enables us to test a user interaction using an actual interface for the first time.
Colors, typeface, overall look and feel and functionality will come into play later. Think of it as an architectural blueprint showing how to build a house before decisions are made about what colors, materials and style will be used.
Why are wireframes so important? Firstly, at this stage we have more flexibility to make changes based on customer feedback and experiment with options. Secondly, it costs less to adopt desired changes now than during the design stage.
Wireframes also help developers advise on how viable ideas are and whether they can be executed from a technical point of view.
What's next?
Once the customer and UX team are happy with a blueprint of the proposed solution, we are moving to the actual design of the user interface (UI). Designers now take the reins to convert UX intent into prototypes supported by visual language such as look, feel and brand identity elements.
Planning to redesign your website and want to learn more why start with UX? Let's have a conversation.